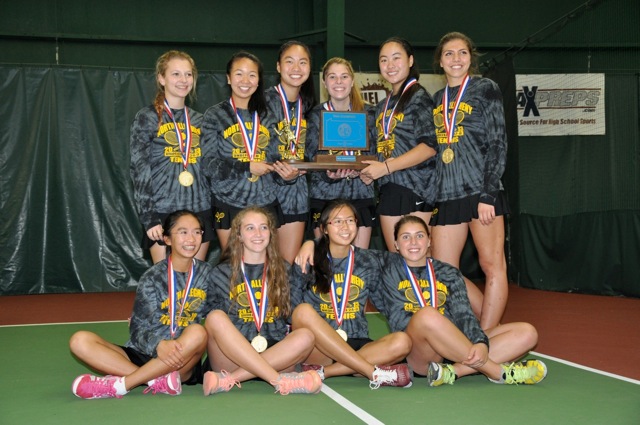 NA Girls' Tennis Finishes Perfect Season With 2nd Straight PIAA Title
The Lady Tigers made it two PIAA titles in a row on Saturday afternoon with a 3-1 victory over Shady Side Academy in the state championship at the Hershey Racquet Club. As it did for the WPIAL championship, the state crown came down to North Allegheny and Shady Side and the third meeting of the season between these two teams finished the same way as the prior two meetings, with the Lady Tigers victorious.
The Panthers only win came at #1 singles where Anaya Dua claimed a 6-2, 6-3, decision. At #3 singles, Eugenia Lee delivered a 6-2, 6-2, win for NA to even things up.  North Allegheny's pairings of Tristyn Maalouf and Catherine Liu, and Sydney Boyd and Catherine Zhang clinched the championship gold with victories in doubles play. Tina Li's match at #2 singles was incomplete.
To reach the PIAA title match, the Tigers defeated Mt. Lebanon, 4-1, in the state semifinals earlier in the day.
North Allegheny finishes the season with a perfect 24-0 record for the second straight season. Congratulations to head coach Michelle Weniger and the Lady Tigers on winning their second consecutive state crown. For a look at the PIAA Class AAA brackets, click here.