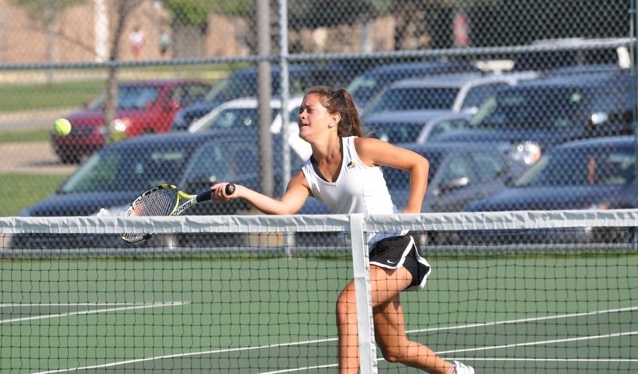 NA Girls' Tennis Knocks Off Knights, 5-0
With a straight sweep of the Knoch Knights, the North Allegheny Girls Tennis Team earned a 5-0 victory on Thursday. It was a dominating performance by NA as collectively the Lady Tigers lost only one set on the day. In singles competition, Tina Li, Anna Li and Tristyn Maalouf all picked up 6-0, 6-0 wins. In doubles play, Jenn Hoffman and Sydney Boyd defeated Alice Gordon and Molly Conlon 6-1, 6-0. Catherine Liu and Catherine Zhang finished off the Knights with a 6-0, 6-0, win over Hope Crimbchin and Rachel Sopcisclk.
North Allegheny improves to 4-0 overall and 2-0 in the section. The Lady Tigers visit the Butler Golden Tornado on Friday.
Match Summary

NORTH ALLEGHENY - 5
KNOCH - 0
SINGLES
#1
Anna Li (NA) def. Patricia Pivaronas (K)
6-0, 6-0
#2
Tina Li (NA) def. Melissa Stearns (K)
6-0, 6-0
#3
Tristyn Maalouf (NA) def. Brooke Etzel (K)
6-0, 6-0
DOUBLES
#1
Jenn Hofmann/Sydney Boyd (NA) def. Alice Gordon/Molly Conlon (K)
6-1, 6-0
#2
Catherine Liu/Catherin Zhang (NA) def. Hope Crimbchin/Rachel Sopcisclk
6-0, 6-0