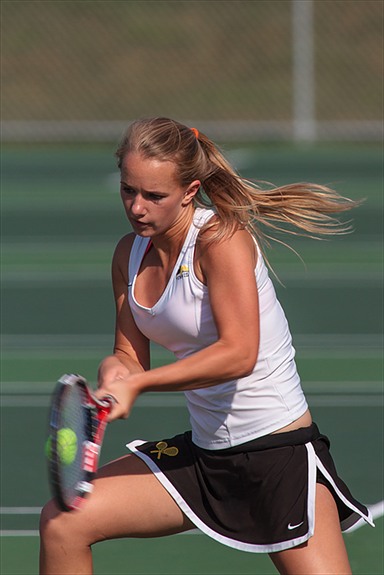 NA Girls' Tennis Takes Down Seneca Valley, 5-0
The North Allegheny Girls Tennis Team coasted to a 5-0 victory over the Seneca Valley on Monday afternoon to continue their unblemished streak in 2013.  In singles competition, Maddy Adams, Anna Li and Tina Li swept past their opponents.  Doubles competition had similar results as Tristyn Maalouf and Jenn Hoffman breezed by Allie Grence and Jane Vandrak.  Sydney Boyd and Catherine Zhang topped Victoria Zulick and Savanna Grinder, 6-1, 6-0.
North Allegheny concludes their regular season action on Friday with a 3:30 pm meeting with North Hills.  The Lady Tigers will send two pairings to the WPIAL Doubles Championships on Wednesday and Thursday.
Match Summary

NORTH ALLEGHENY - 5
SENECA VALLEY - 0
SINGLES
#1
Maddy Adams (NA) def. Allie Head (SV)
6-0, 6-0
#2
Anna Li (NA) def. Melissa Karidis (SV)
6-0, 6-1
#3
Tina Li (NA) def. Ana Jovanovic (SV)
6-0, 6-0
DOUBLES
#1
Tristyn Maalouf/Jenn Hofmann (NA) def. Allie Grence/Jane Vandrak (SV)
6-0, 6-2
#2
Sydney Boyd/Catherine Zhang (NA) def, Victoria Zulick/Savanna Grinder (SV)
6-1, 6-0
EXHIBITION
Catherine Liu/Elena Kolano def. Soumya Parasgar/Abbey White
6-0, 6-0