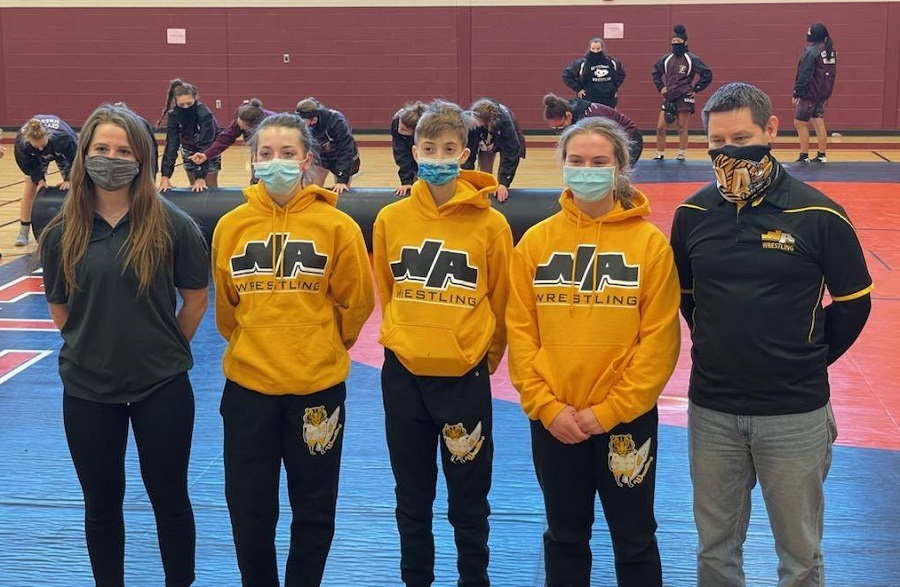 NA GIRLS' WRESTLING TEAM MAKES HISTORY AT HISTORIC GETTYSBURG
Our NA Girls teamed up with JP McCaskey. This was a unique team as it brought together the first ever girls' program in the state (McCaskey) and the first ever program in the WPIAL (North Allegheny). They were also joined by two other wrestlers from Fairfield and York Suburban.
In the first meet against the Gettysburg/Pottstown team, Junior Taylor Stover picked up the first ever varsity win in school history with a 7-6 decision over Zalike Roberts of Gettysburg. Sophomore Hannah Williams also picked up her first win with a pin. The Gettysburg/Pottstown team came away with the team win.
In the second dual meet against Annville-Cleaona/Delaware Valley team, Williams continued a strong performance by picking up two falls against Annville-Cleona's Lois Cary. The North Allegheny/JP McCaskey team squeaked out a close win against the Annville-Cleaona/Delaware Valley combo team.
The final dual meet against the Governor Mifflin/Parkland/New Oxford squad, all three girls recorded wins and helped lead the team to victory. Freshman Leyna Rumpler led the way with two victories. She pinned Governor Mifflin's Katie Warner in the first period. She followed that up with an impressive 12-3 major decision over Governor Mifflin's Olivia York. Williams also picked up her fourth win of the day by pinning Governor Mifflin's Stacey Frias. Stover closed out the dual with a hard fought 11-9 overtime victory over Ella Hoffman of Governor Mifflin.
On the day Williams led the Tigers with a 4-2 record. Rumpler finished at 2-3 and Stover finished 2-3. The Combined team of North Allegheny/ JP McCaskey, York Suburban, and Fairfield finished the day 2-1.
The NA Girls will be in action again on Friday at the Canon Mac Duals with a few matches against Burgettstown. On Saturday they will travel to Central Mountain to take on Central Mountain and Dubois.