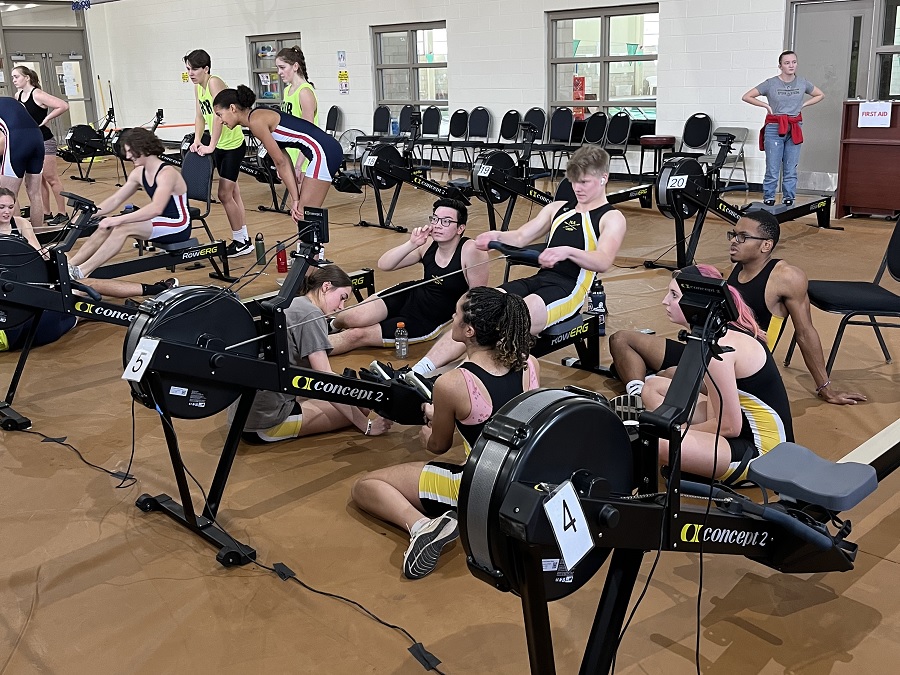 NA Has Big Day At Pittsburgh Indoor Sprints
North Allegheny Rowing attended its first of two indoor races this winter on Saturday, Jan. 28. Returning after a 3-year hiatus, Pittsburgh Indoor Sprints brings together athletes from across the greater PGH area and highlights the training and hard work of the region. The Tigers had a successful day bringing home 27 new personal best times over the course of the day.
Highlights of the day for the Tigers include a 2nd place finish for Anthony Bertucci in the Boys U17 in a PR time of 6:52.4. Aine Ridenour places 3rd in the U20 Girls event in a PR of 7:46.5 and Ryan (Jackson) Rodgers placed 3rd in the Boys U20 event in 6:56.1 also a PR. The Tigers Coxswains swept the 500 Meter dash event, Omisa Shah placed first, Evie Disque claimed second and Ava Moore secured third. The Tigers also demonstrated great depth with several athletes placing just out of medals contention including Cooper Lemon taking 4th in the U16 Boys, Natalie Helffrich taking 5th in the Girls U16, Alexandra Witzel was 4th in the U17 Girls with Katherine Zema just behind her in 5th.
The day wrapped up with the NA relay teams placing 2nd and 4th. (Jackson Rodgers, Tony Bertucci, Braden Lemon, Aine Ridenour, Tabo Mkandawire, Sawyer Wright / Miles Rees, Caleb Sanders, Zach Stamper, Alex Witzel, Athena Huber, and Addy Cooper)
NA races next at home in the 22nd annual Erg in the 'Burgh on February 25th at Marshall Middle School.