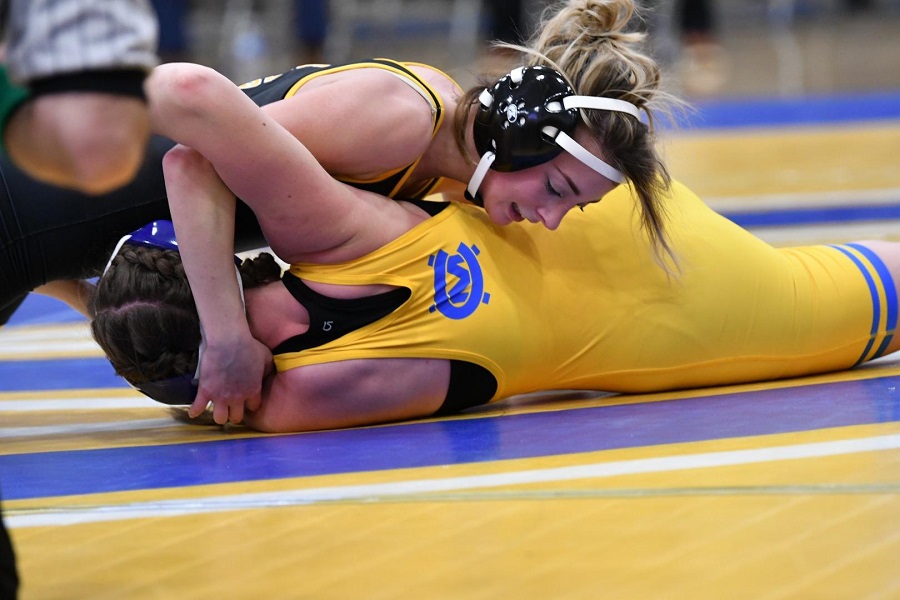 NA Makes History In First Ever WPIAL Girls' Match
(12/22/21) Tuesday evening the Lady Tigers Wrestling team traveled to Canon-McMillan High School to participate in the first ever WPIAL girls' match. No team score was kept as this event was designed to showcase the two teams. The North Allegheny wrestlers competed in two or three matches in an effort to allow every Canon Mac girl a chance to wrestle in front of their home crowd. Six NA wrestlers competed in this historic event, wrestling a total of 14 matches in just over an hour.
Senior Taylor Stover started of the night, dropping a hard fought back and forth battle, 8-6. This electric match set the tone for crowd that was well over 100.
NA picked up two wins in the first set of matches. Sophomore Audrey Morrison used a third period flurry to grind out an 8-4 win. Sophomore Leyna Rumpler then secured a second period fall.
Also competing were junior Hannah Williams and freshmen Brenna Collery and Kaylee Dean.
The night was capped off with Stover returning to mat for a third match. She didn't disappoint. Despite being completely exhausted from wrestling full two matches already, Stover grinded out and showed incredible perseverance. Stover was able to pick up the pin at 5 minutes and 20 seconds. In total, Stover wrestled for 17 minutes and 20 seconds between her three matches.
Up next, the North Allegheny girls' wrestling team is in action on Tuesday at 6 pm, as they travel back to Canon Mac for the Girls Powerade Tournament.