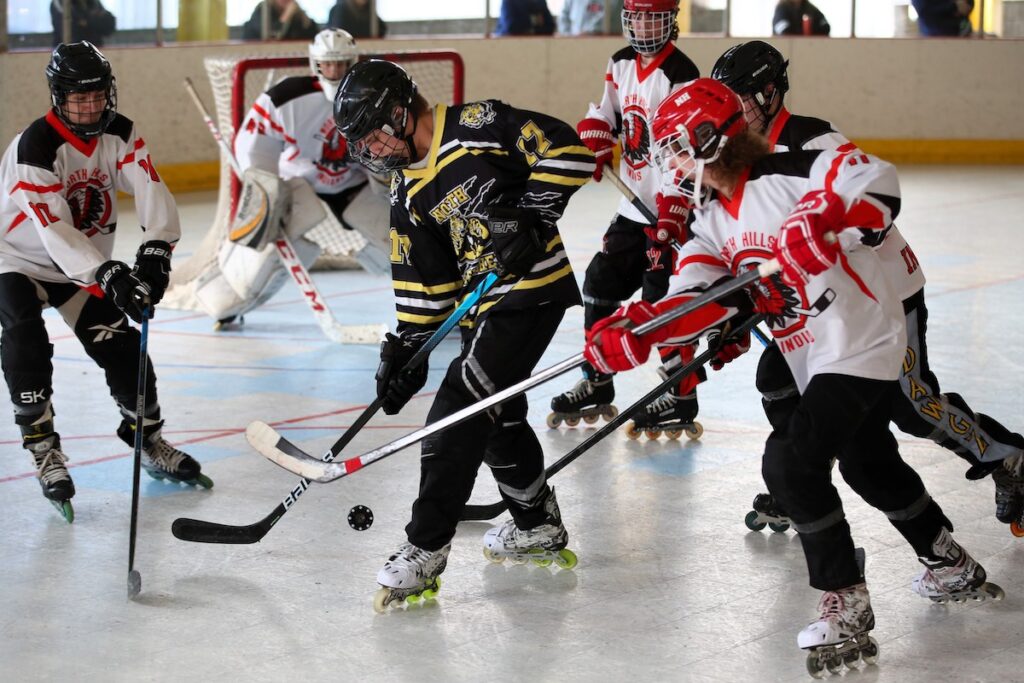 NA Outlasts North Hills, 5-3
The North Allegheny Tigers escaped an aggressive North Hills Indian attack on Sunday at the RMU Island Sports Center by a 5-3 margin.
With both teams standing their ground, it was the Indians who initiated the scoring in the first period while keeping the Tigers off the board.
With the Tigers heading into the second period down a goal it was sophomore Matthew Noffsinger scoring, assisted by senior Jacob Rice to tie the game up at 1-1.  Continuing in the second period and giving the Tigers a short-lived lead was a goal by junior Steven Cameron from senior Aiden Noffsinger.  The Indians responded with a goal of their own tying the game at 2-2.  Not to be outdone and less than a minute later Matthew Noffsinger scored, assisted by senior Logan Cerqua to put the Tigers up by one at 3-2.  The aggressive chippy play continued through the end of the second as both teams had multiple players visit the penalty box.
The third period started with the Indians on a 3 on 2 advantage.  Although the Tigers killed the initial penalty, the Indians notched a goal midway through the third to once again tie it up at 3-3.  Late in the third it was senior Declan Dadey scoring a power play goal assisted by Cerqua to give the Tigers a one goal advantage and senior Aidan Anthony sealed the win one final goal assisted by Rice, closing out the game with a 5-3 Tiger victory.
Sophomore goalie Claudia Kushon earned the win as the Tigers improve their record to 8-1 on the season.  The Tigers will resume play next Sunday at 10:00 AM against the Hampton Talbots at the RMU Island Sports Center.