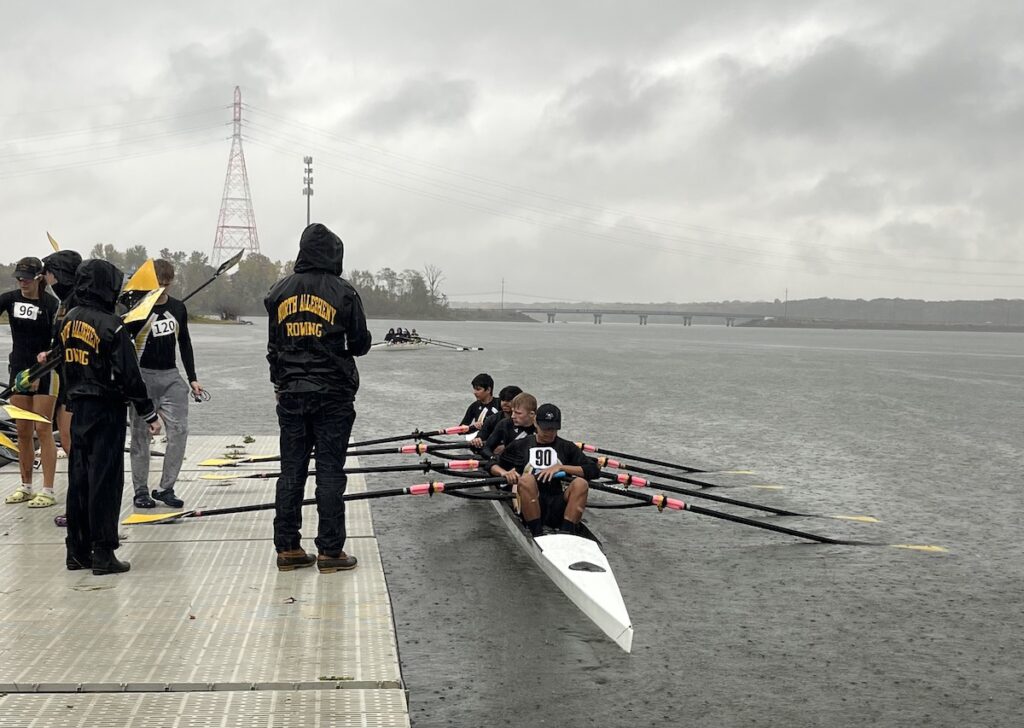 NA Rowing Takes Part In Hoover Fall Classic
On Saturday, Oct. 14, the North Allegheny Tigers traveled to Westerville OH for the Hoover Fall classic for the first time since 2019. Conditions were cool and rainy and the day began with a fog delay, but winds remained low and water conditions were flat for some fair and fast racing.
The day began with the Men's Novice 4x racing for the first time together and making a strong statement finishing first over the 5K course (Nikhil Kshirsagar, Phoenix Core, Neil Pore, & Suraj Raina). Immediately behind them on the course was the Women's 4x's, the Tigers had two entries and clinched two medals, gold and bronze in the event (Alexandra Witzel, Sawyer Wright, Katherine Zema, Lorelei Schreiber) & (Emily DiDonato, Alexandra Edfors, Ava Moore, Natalie Helfrick). 
The Varsity Boys took to the water for the first time of the day in the Mens 4+ placing 14th in a deep field (Miles Rees, Alexander Repinski, Anthony Bertucci, Cooper Lemon & Coxswain Lauren Keyser). Layton Wright with Carson Carona & Christian Sperandeo with Nolan Bunn raced next in the Mens 2x event placing 3rd & 4th respectively. Wright, Sperandeo & Bunn then jumped directly into the Mens Lwt 4+ and placed 4th.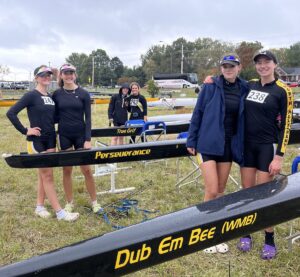 The Women's team picked up racing again in the 4+ event Alana Boronski, Athena Thomas-Huber, Vanessa Edfors and Boden Sumerlin with Coxswain Evelyn Disque placed 10th. Their counterpart in the 2nd 4+ placed 20th in the largest event the team raced in all day. (Emily DiDonato, Alexandra Edfors, Abigail Greiner, Natalie Helfrick & Coxswain Ava Moore). 
A Highlight of the day was the Tigers dominating the Womens 2x event. They swept the medals stand with the A, C & B line ups finishing respectively all within 1 min of each other, and a full minute ahead of 4th place finishers. (Sawyer Wright & Lorelei Schreiber/ Madison Lambert & Madelyn Rodgers/ Katherine Zema & Alexandra Witzel). 
The day wrapped with two more boys boats, The Novice 4+ had a hard start to their piece but pulled out an impressive race and managed a 4th place despite it. (Phoenix Core, Maximus Disque, Neil Pore, & AJ Walton Coxswain Mandy Adducci). Their Varsity counterparts finished the day for the team in the Varsity 8+ taking 10th against some Midwestern power house lineups. (Miles Rees, Carson Carona, Cooper Lemon, Alexander Repinski, Anthony Bertucci, Christian Sperandeo, Roman Bellisario, Layton Wright & Coxswain Lauren Keyser).
Next up is a double header in Columbus Ohio on 10/28 & 29; The Blake Haxton and Speakmon Memorial Regattas. The Tigers look to find more speed in preparation for their triangle races of the season over the next two weeks.