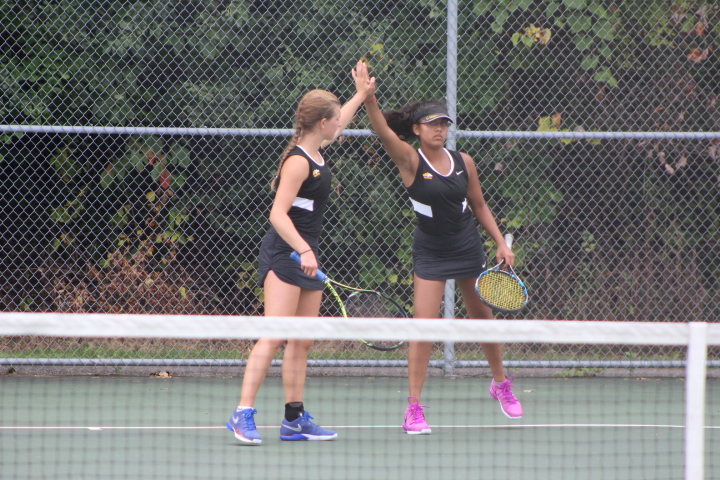 NA Sinks Shady Side Academy For Opening Day Win
The North Allegheny girls' tennis team began its quest for a fifth straight WPIAL championship on Monday afternoon with a 4-1 non-section victory over Shady Side Academy.
The Tigers rolled to the win and cruised to victories in singles play courtesy of Ava Catanzarite, Ashley Huang and Carolyn Tsung. The doubles team of Rebekah Rest and Katherine Ambrose defeated Paige Golden and Ariana Goitz by a 6-3, 6-1 decision. NA's only blemish on the day was a loss at No. 2 doubles where Lauren Davies and Kristen Karin picked up a 4-6, 6-3, 10-7 win.
Following the opening day win, North Allegheny will visit Mt. Lebanon on Thursday in a rematch of last year's WPIAL title tilt. Start time is slated for 3:30 p.m.
Girls Tennis Summary vs. Shady Side Academy, 8-22-17
Match Summary

NORTH ALLEGHENY - 4
SHADY SIDE ACADEMY - 1
SINGLES
#1
Ava Catanzarite (NA) def. Elle Santora (SSA)
6-0, 6-0
#2
Ashley Huang (NA) def. Ayd Youssef (SSA)
6-0, 6-1
#3
Carolyn Tsung (NA) def. Isha Reddy (SSA)
6-0, 6-1
DOUBLES
#1
Rebekah Rest/Katherine Ambrose (NA) def. Paige Golden/Ariana Goitz (SSA)
6-3, 6-1
#2
Lauren Davies/Kristen Karin (SSA) def. Riya Yadav/Jenny Zhu (NA)
4-6, 6-3, 10-7