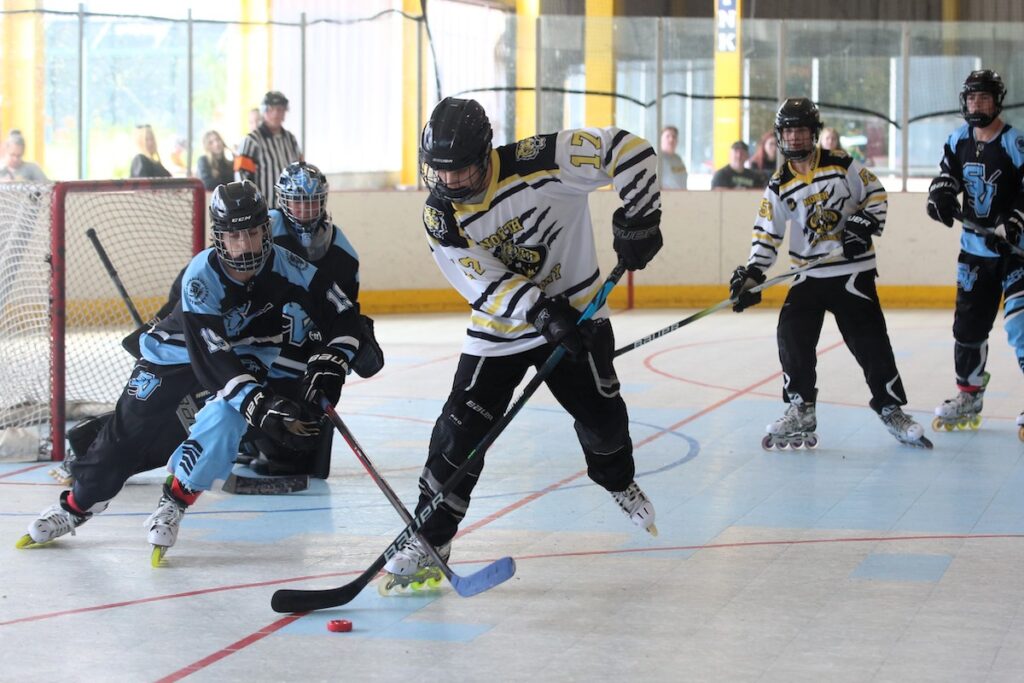 NA Sweeps Twin Bill Against Seneca Valley, Canon-McMillan
The North Allegheny Tigers posted two wins Sunday at the RMU Island Sports Center against two different opponents.
The first game was a 7-0 North Allegheny victory against the Seneca Valley Raiders where six different Tigers broke the score sheet.  Both teams were held scoreless in the first period. The scoring for the Tigers started in the second period with a deflection by senior Jacob Rice, assisted by senior Aidan Anthony.  Following some crisp passing by the Tigers, senior Tristan Soose notched a goal assisted by senior Declan Dadey. The final goal of the period was a solid wrist shot from Anthony assisted by senior Aiden Noffsinger, closing out the period with the Tigers leading 3-0.
The offensive drive continued into the third period starting with a power play goal from Aiden Noffsinger.  Dadey followed suit with back-to-back goals of his own.  Closing out the period was a goal from junior Steven Cameron, ending the game with a 7-0 Tiger victory.
Sophomore goalie Claudia Kushon earned the shutout win for the first game.
The second game of the day was a 10-3 victory against the Canon-McMillan Big Macs.  Once again it was a balanced scoring effort with seven different Tigers breaking the score sheet.  Period one saw Soose initiate the scoring, assisted by Rice, followed by a Rice goal that was assisted by Soose.  Closing out the first period was a goal from Cameron, assisted by sophomore Matthew Noffsinger. The Big Macs got on the scoreboard as well ending the frame with the Tigers leading 3-1.
In the second period the Tigers got two goals from senior Aidan Anthony and one from Dadey, assisted by Soose while the Big Macs posted two of their own ending with the Tigers up 6-3.
The third period saw the Tigers break open the game compiling four additional goals while holding the Big Macs scoreless.  Two goals were from Matthew Noffsinger assisted by senior Mitchell Ludwick, one goal from Aiden Noffsinger assisted by Soose, and an unassisted goal from Rice.  The Tigers ended with a 10-3 win.
Kushon earned her second win of the day in net.
The Tigers resume play next Sunday at 10:00 AM against the Central Catholic Vikings at the RMU Island Sports Center.