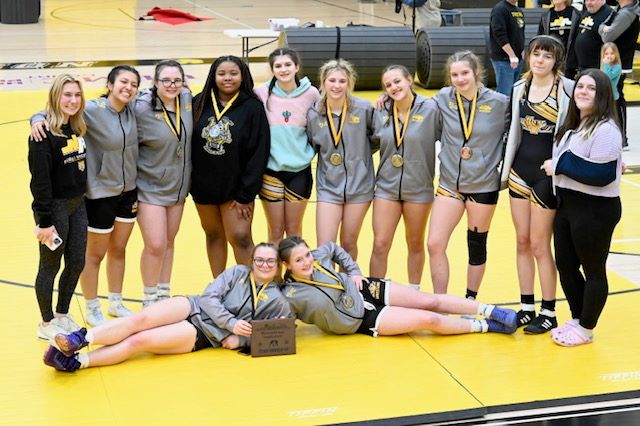 NA Takes 2nd At Western PA Championships, Crowns 5 Individual Champs
The North Allegheny girls' wrestling team went up against the best in the area and took second place at the Western Pennsylvania Championships on Sunday. The Tigers totaled a team score of 139 and also crowned five individual champions. Freshman Sophia Folks (130), junior Audrey Morrison (142), senior Callie Rautenbach (148), junior Leyna Rumpler (155) and sophomore Kaylee Dean (235) each won Western PA gold.
Folks began her trek to a title with a win by fall over Bella Arnold of Canon-McMillan and followed with another pin fall over Asia Fowler of Woodland Hills. In the championship bout at 130, Folks earned another pin fall against Seneca Valley's Maddee Fischer in 3:16.
In similar fashion at 148, Rautenbach began with a win by fall over Nyema Calhoun of Highlands in the semifinals and pinned Canon-McMillan's Evangeline Gray in the championship bout in 1:30.
Morrison, Rumpler and Dean all won titles through a round robin in their respective weight classes. At 142, Morrison defeated teammate Ava Frailey by pin fall and followed with pins against Canon-McMillan's Grace O'Korn and Trinity's Kenzie Phasupong to secure the title. Rumpler dominated her opponents at 155, earning quick pins of Mt. Lebanon's Claire Hightower and Canon-McMillan's Dynisty Williams. At 235, Dean defeated teammate Amya Sanford with back-to-back pin falls to win gold as well. Sanford earned a silver medal for her performance at 235 amd Frailey took fourth place at 142.
Another impressive effort was delivered by sophomore Brenna Collery at 136 pounds. Despite dropping her first bout of the bracket, Collery was undaunted and rattled off five consecutive wins by fall to capture third place. In the third-place bout, Collery defeated Liliane Wasmund of Southmoreland in 2:32.
In a continually growing sport, there were 81 girls from 26 different schools across the WPIAL and City League that competed at the event. That's a 138-percent increase in participation from the previous year. For a full look at the brackets and results from the 2023 Western Pennsylvania Championships, click here.
The North Allegheny girls' wrestling team has one more dual meet before the Pennsylvania Regional Tournament on March 5. Ahead of regionals, the Tigers will host Southmoreland on Senior Night on Tuesday, Feb. 21.