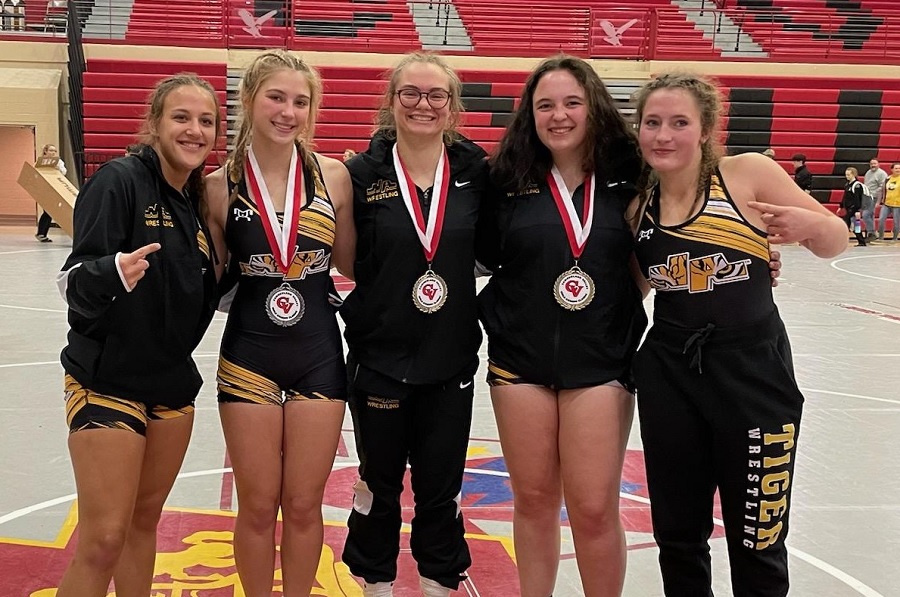 NA Takes 3rd Place at Cumberland Valley Kickoff Classic
The North Allegheny girls' wrestling team opened the 2022-2023 season at the Cumberland Valley Girls Kickoff Classic this weekend and finished in third place out of 27 teams. The Lady Tigers got off to a slow start. Halfway through the tournament they were in 11th place as a team. However, the girls battled back and overtook J.P McCaskey for third place in the final round.
The Lady Tigers were led by two Champions, junior Leyna Rumpler (155 lbs) and sophomore Kaylee Dean (235 lbs). Both finished 3-0 on the day. Rumpler opened the tournament with a quarterfinal win by fall over Exeter's Haley Piersol. In the semifinals, Rumpler picked up another fall over Dallastown's Haley Piersol. In the finals, Rumpler secured her third first period fall of the day over Dynisty Williams of Canon Mac in 1:59.
Dean also opened the tournament with a quarterfinal win by fall over Cumberland Valley's Madison Garman. In the semifinals, Dean then scored a takedown with 9 seconds left in the first period and then kept Kiara Vilanova-Medin of Camp Hill scoreless to post the 2-0 victory. Dean then claimed her first high school tournament title with a trilling 3-2 victory over the No. 1 seed Aja`nai Jumper of Cumberland Valley.
Freshman Sophia Folks (130lbs) also had a strong run to finish in second place in her first ever high school competition. In her first two matches, Folks secured two first period pins over Central Mountain's Paisley Beatty and Pine Grove's Lauren Wessner. In the semifinals, Folks built a 12-5 lead over Layla Weiss of Cumberland Valley before picking up the fall in 5:04. In the finals she fell to a fellow PA National Team Member, Zoe Furman, of Montgomery Area by fall 1:46. Folks finished 3-1, with three falls.
Two Lady Tigers also battled to 4th place finishes. Junior Audrey Morrison (142 lbs) secured two first period falls before losing in the semifinals. In the consolation semifinals, Morrison picked up yet another fall to advance to the 3rd place match. She fell to Carlisle's Sophia Adams by fall in 1:55. Morrison finished the day 3-2 with three falls. Senior Callie Rautenbach (148lbs), dropped her first match 6-4 to Dover's Jahzari Abney. Rautenbach then strung together four straight wins, two of them by fall, to advance to the 3rd place match. She then dropped her second match of the day to Dover's Jahzari Abney, 6-2, in the third-place match. Rautenbach finished 4-2, with two falls.
Sophomore Brenna Collery (136lbs) and freshman Amya Sanford (235lbs) each picked up a fall during the day.
In all, 11 Tigers participated in the Cumberland Valley Girls Kickoff Classic. To view all of the tournament results, https://www.trackwrestling.com/tw/predefinedtournaments/VerifyPassword.jsp?tournamentId=687022132
North Allegheny will look to build on its strong tournament performance when they travel to Central Mountain on Sunday Dec 18th to compete at the Queen of the Mountain Tournament.