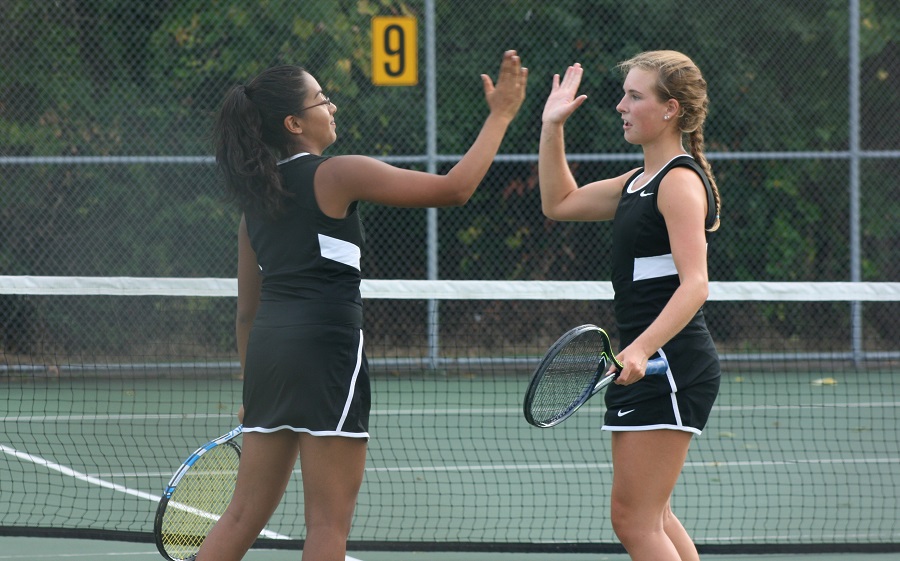 NA Vaults Over Moon In Section Play
The North Allegheny Lady Tigers garnered a victory in their first section match of the season with a 5-0 sweep of the Moon Tigers on Monday afternoon. North Allegheny proved to have the most ferocious Tigers and rolled to the win.
Ava Catanzarite, Rebekah Rest and Jenny Zhu took home wins in singles play. The No. 1 doubles tandem of Carolyn Tsung and Claire Shao earned a 6-0, 6-1, triumph over Marilia Sawaya and Sierra Souzz. At No. 2 doubles, Katherine Ambrose and Riya Yadav topped Kira Ley and Natalie Baumgarten in a clean sweep of 6-0, 6-0.
North Allegheny improves to 3-0 overall and 1-0 in section play. The Tigers visit Kiski Area on Tuesday afternoon at 3:30 p.m.
Girls Tennis Summary vs. Moon, 8-28-17
Match Summary

NORTH ALLEGHENY - 5
MOON - 0
SINGLES
#1
Ava Catanzarite (NA) def. Emma Patton (M)
6-0, 6-0
#2
Rebekah Rest (NA) def. Sam Vachino (M)
6-0, 6-2
#3
Jenny Zhu (NA) vs. Ella Patton (M)
6-0, 6-2
DOUBLES
#1
Carolyn Tsung/Claire Shao (NA) def. Marilia Sawaya/Sierra Souzz (M)
6-0, 6-1
#2
Katherine Ambrose/Riya Yadav (NA) def. Kira Ley/Natalie Baumgarten
6-0, 6-0