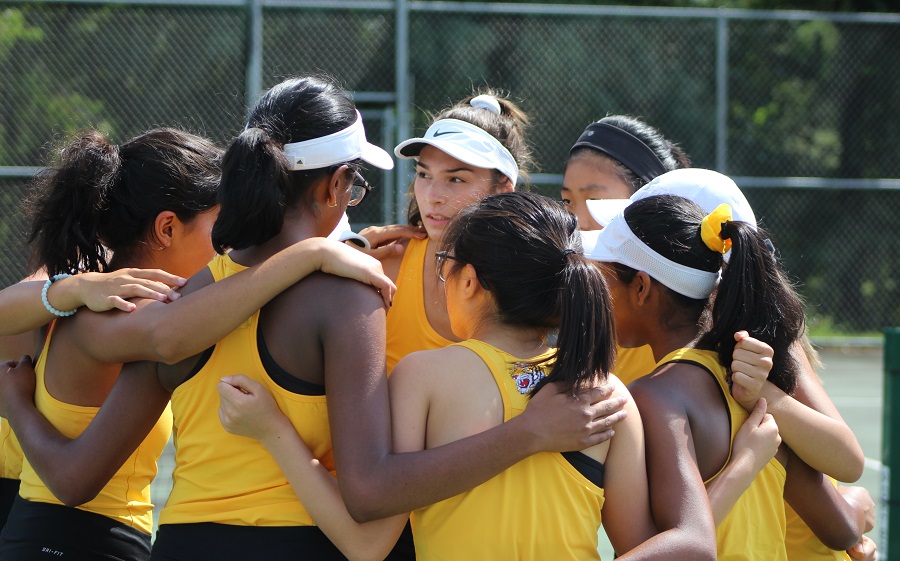 NA's 25-Match Unbeaten Streak Snapped By Moon
The North Allegheny girls' tennis team dropped the section opener on Monday afternoon, 4-1, to Moon. The loss snapped a 25-match unbeaten streak for North Allegheny and was the first time in over three years the Tigers fell to a WPIAL opponent, ending an astonishing run by the girls' tennis program.
The Tigers' lone winner on Monday was senior captain Ashley Huang who posted a 6-0, 6-0, sweep of Emma Patton at No. 1 singles.
North Allegheny's record sits at 1-1-1 on the season and 0-1 in section play. The Lady Tigers look to bounce back with a non-section road match today at Upper St. Clair.
Girls Tennis Summary vs. Moon, 8-27-18
Match Summary

MOON - 4
NORTH ALLEGHENY - 1
SINGLES
#1
Ashley Huang (NA) def. Emma Patton (M)
6-0, 6-0
#2
Amanda Karen (M) def. Ella Sinciline (NA)
1-6, 7-6, 6-2
#3
Sam Vachiro (M) def. Jenny Zhu (NA)
6-3, 6-2
DOUBLES
#1
Maria Lounder/Ella Patton (M) def. Claire Shao/Riya Yadav (NA)
7-5, 6-2
#2
Kira Lee/Marcia Sauma (M) def. Shria Moturi/Ashley Chung (NA)
4-6, 7-6, 6-4