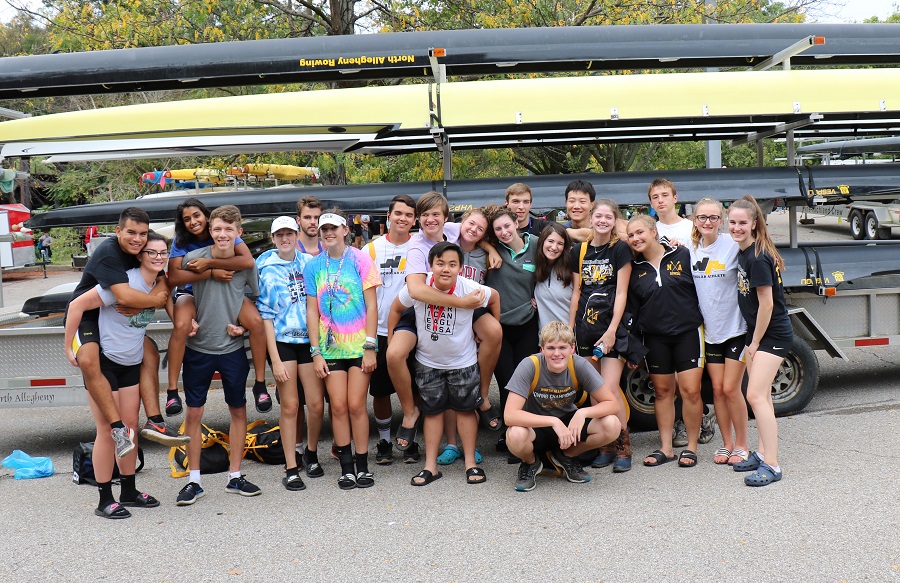 NA Rowers Fight the Elements to Medal at HOTO
The morning started wet but cleared to a steely gray as the NA Rowing team faced strong competition at the 31st Annual Head of the Ohio Regatta in Pittsburgh on October 8, 2018. The Tigers rowed into the wind and choppy waters, fighting hard against the elements.  Medaling for North Allegheny were:
Men's Youth Novice Singles – Henry Campsie – 1st place
Men's Youth Novice Singles – Alex Hladio – 2nd place
Men's Youth Doubles – Manny Mouganis and Christopher Schmitz – 1st place scholastic/3rd place overall
Men's Youth Novice Doubles – Henry Campsie and Ethan Mattson – 2nd place
More than 50 rowing organizations and approximately 400 boats were expected to compete at the two-day event hosted by the Three Rivers Rowing Association (TRRA) with youth high school and club teams participating on Sunday. The 2.6 mile headrace is a time-trial competition with staggered start times.  The course runs along the banks of the Allegheny River from the Washington's Landing Boathouse near the 40th Street Bridge and finishes close to the Fort Duquesne Bridge and Point State Park.
NA Rowing alumni, Julia Losco (now rowing at Marietta College) and Frankie Balest (Allegheny College), stopped by to offer encouragement to their former teammates. Also spotted wearing an NA rowing jacket was Zach Petronic, a two-time national team member who now coaches at Steel City.  It's great to see former NA rowers at our competitions and we hope to see more alums drop by the Tiger tent at future events!
A big thank you to NARA parent volunteers for feeding the team and helping make the day go smoothly for our athletes. Thank you to TRRA for hosting this terrific event!
NARA is always looking for new talent to add to our roster. If you would like more information about our program, please contact North Allegheny Rowing at na.row.info@gmail.com.