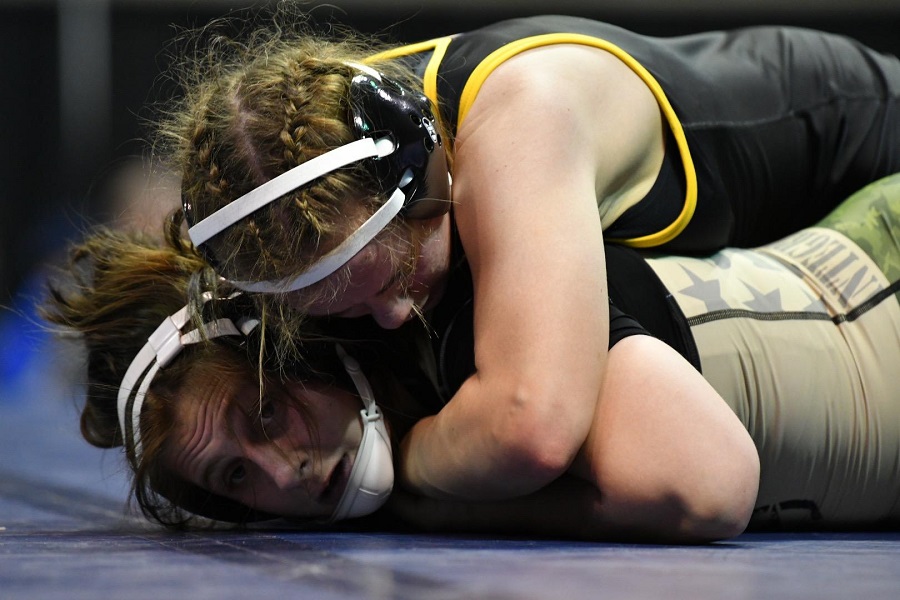 RUMPLER FINISHES 2ND, RAUTENBACH 4TH AT MID-WINTER MAYHEM
Competing in the combined weight class of 148/155, Rumpler became the first ever NA Lady Tiger to compete in the finals of a high school girls tournament. Rumpler pinned Dynisty Williams of Canon McMillan in 1:02 in her first-round match. In the semifinals, she secured another fall over Elora Dillinger Crawford County in 2:24. In the finals, Rumpler faced off against Senior Lacey Hinman of Athens. A first period takedown by Hinman would prove to be the difference, as Rumpler lost by a score of 3-1.
Rautenbach made her season debut in dramatic fashion at 142. She posted an 8-4 victory over No. 4 seed Camryn Steinbuch of Bedford in the first round. With that win, Rautenbach became the first ever Lady Tiger to win in her first ever high school match. In the semifinals, Rautenbach lost by fall to eventual champion Patron Plummer of Chestnut Ridge. She then picked up her first ever fall over Cameron Corl of Bald Eagle Area in 42 seconds. Her debut run ended with her losing by fall to Abby Klaiber of DuBois Area in the 3rd place match.
Freshman Kaylee Dean (170/190) and sophomore Audrey Morrison (148/155) both finished one win shy of placing. They both picked up one pin during the day. Also competing for the Lady Tigers were junior Hannah Williams (106) and freshmen Brenna Collery (142) and Maya Scott (148/155).
Brackets: https://arena.flowrestling.org/event/8afbbbee-9aa0-28f1-6e12-09eead3445fd
North Allegheny girls' wrestling team is in action on Saturday at 4 pm at the Gettysburg Duals.