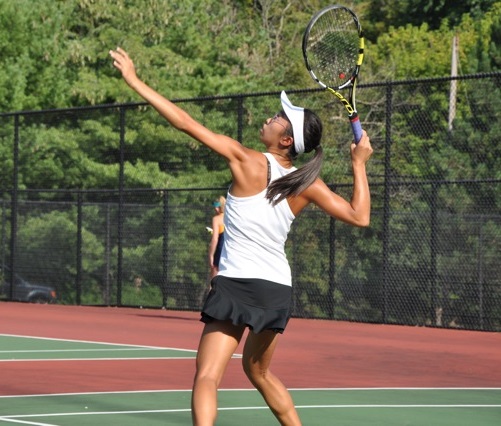 Shady Side Snaps NA's 49-Match Winning Streak
The Lady Tigers lost for the first time in three years, dropping a 3-2 decision to Shady Side Academy on Thursday afternoon. The loss snapped a 49-match winning streak for North Allegheny. Shady Side Academy was also the last team to defeat the Tigers, topping NA 3-2 in the 2012 WPIAL Championship.
At #2 singles, junior Tina Li defeated Emma Perelman 6-3, 6-2. Freshman Ashley Huang also won on straight sets over Devin Gramley at #3 singles by scores of 6-0, 6-1. Shady Side's Ananya Dua beat Anna Li 6-1, 6-0, at #1 singles and the Panthers swept the doubles matches to claim the victory.
North Allegheny falls to 1-1 overall and will look to bounce back in the section opener on Monday at home against Knoch.
Girls Tennis Summary 8-27-15 vs. Shady Side Academy
Match Summary

SHADY SIDE ACADEMY - 3
NORTH ALLEGHENY - 2
SINGLES
#1
Ananya Dua (SS) def. Anna Li (NA)
6-1, 6-0
#2
Tina Li (NA) def. Emma Perelman (SS)
6-3, 6-2
#3
Ashley Huang (NA) def. Devin Gramley (SS)
6-0, 6-1
DOUBLES
#1
Lindsay Miller/Erin Gramley (SS) def. Tristyn Maalouf/Elena Kolano (NA)
6-4, 7-5
#2
Amy Donohue/Maria Jovin (SS) def. Julie Choe/Jenna Kolano (NA)
6-4, 6-7 (4-7), 6-4