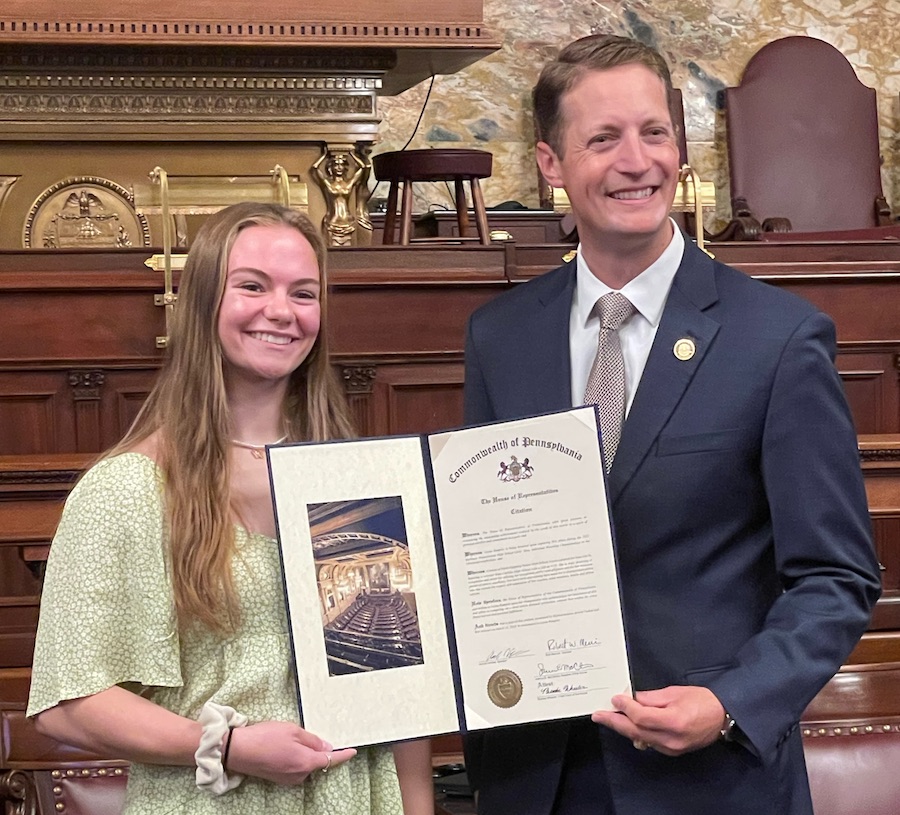 State Champion Leyna Rumpler Honored At State Capitol
On Monday, June 5, thirteen female wrestlers traveled to our state Capitol in Harrisburg to be recognized by the House of Representatives and Senate as PA Girls Wrestling State Champions. North Allegheny's Leyna Rumpler was invited to attend after winning the 148-pound title this past March.
The day started off with a picture of 2023 Champions outside the Capitol. They were then joined by representatives of the State Senator and the House of Representatives as well as members of SanctionPA for a picture on the Rotunda steps. Rumpler was then presented with a citation recognizing her achievement from Representative Rob Mercuri and was acknowledged during the House of Representative's session. After a tour of the Capitol and lunch, the wrestlers, families, and coaches were brought to the Senate floor. At this time, the girls were presented with a citation from their State Senators. Senator Devlin J. Robinson, a former wrestler for Central Catholic, presented Rumpler her citation. Senator Robinson then acknowledged her as special guest during the Senate session, where he highlighted that she was the first ever Girls Wrestling State Champion in North Allegheny history.
Monday, June 5, 2023 was labeled Girls' Wrestling Day in PA and was part of a celebration of all the athletes, coaches, parents and advocates who have worked so hard to see the sport officially sanctioned by PIAA. Previously on May 17 the PIAA unanimously voted to approve girls wrestling as an official sport, effective July 1, 2023. It marks just the third time in the last 24 years that a new sport has been added by the PIAA. The PIAA plans host a girls' state championship tournament alongside the boys' championship in the Giant Center in March of 2024.