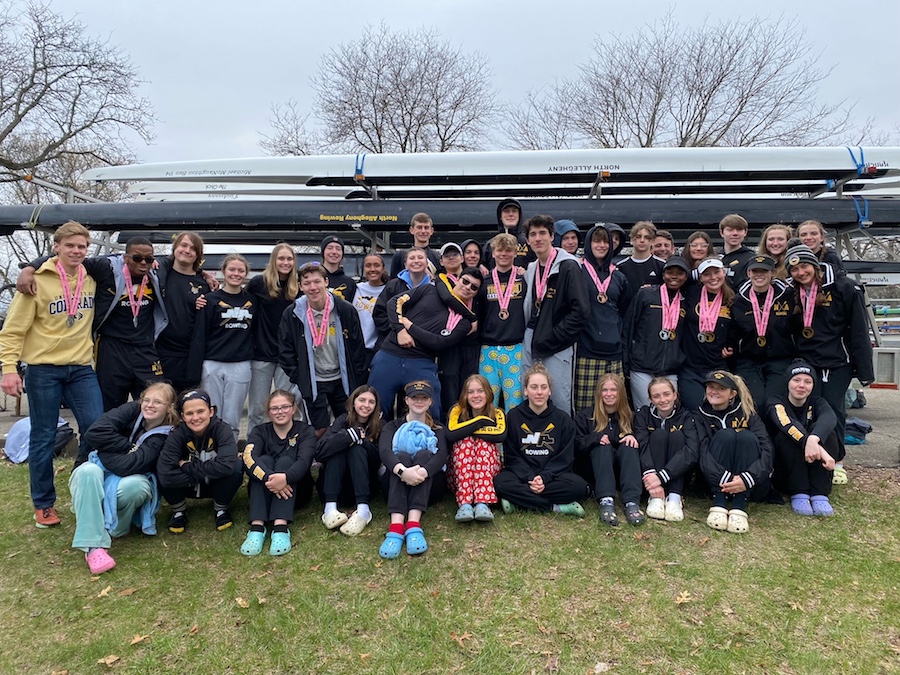 Strong Showing For NA At Lake Huron Sprints
Tiger rowing attended their first Spring Race Huron River Sprints in Kensington MI on Saturday. The team came ready to test their speed and preparation against a strong field that represents much of the competition they'll face off against Midwest Scholastic Championships later this season.
The team had 13 boats in finals and ultimately brought home five medals. The Girls Varsity 4x placed 1st (Tabo Mkandawire, Alex Witzel, Lorelei Schreiber, Aine Ridenour) The Boys Varsity 4x secured 2nd place (Braden Lemon, Zach Stamper, Jackson Rodgers, Caleb Sanders) The Boys JV 4x took 3rd (Miles Rees, Josh Dubovecky, Tony Bertucci, Layton Wright). The Girls V 2x Placed 2nd (Tabo Mkandawire,  Aine Ridenour)  and in a photo finfihs The Boys V2x placed 3rd (Zach Stamper, Jackson Rodgers).
Other highlights of the day include the Girls JV 4+ winning the B final in a field of 32 boats placing 9th overall (Alana Boronski, Sawyer Wright, Athena Huber, Kathy Zema and Cox Evie Disque). The Boys JV 2x placed 4th in the A final, (Anthony Bertucci, Josh Dubouvecky)
The Tigers take on Pittsburgh Scholastic Sprints next at Moraine State Park on Saturday, April 29.