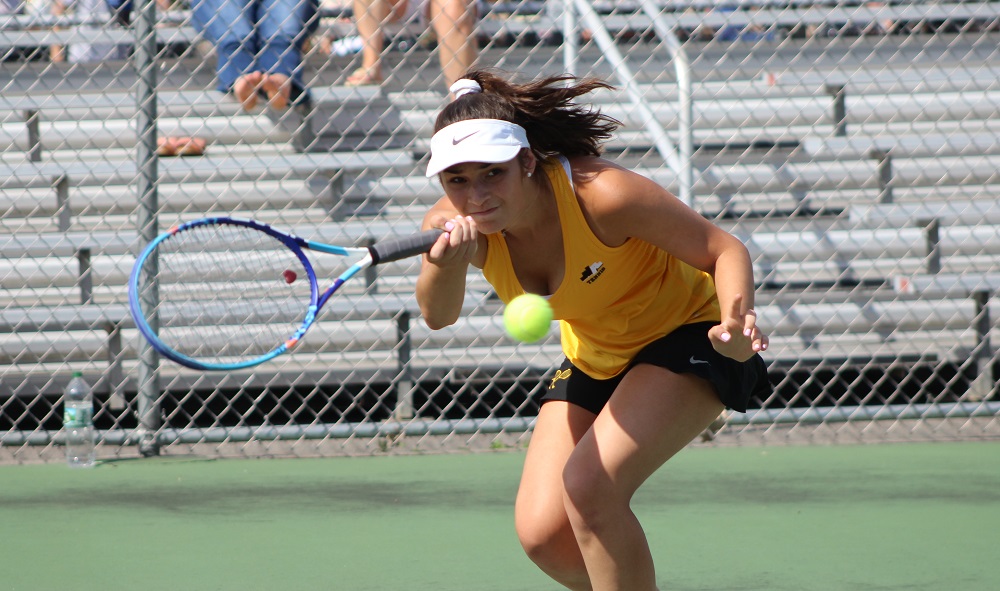 Student-Athlete Profile: Senior Ella Sinciline
Taking up the sport of tennis was a natural fit for North Allegheny senior Ella Sinciline. The daughter of a Division I tennis athlete, Sinciline began playing tennis when she was nine-years old. Her mother, Michelle Daigle-Latta, was a team captain at the University of Maryland and played from 1989-1993.
"She's had a really big influence on me," said Sinciline about her Mother. "She was a great player and has always wanted to be a second coach for me and pushed me a little bit harder than anyone else. That drive to be as good as you can be has trickled over into other areas of my life. She instilled a drive that I otherwise wouldn't have."
That determination and tenacity helped Sinciline become the United States Tennis Association's No. 1-ranked player in the Western Pennsylvania region at age 13. By the time she reached high school, North Allegheny was in the midst of a lengthy run of WPIAL and PIAA titles.
In 2017, North Allegheny won it's fifth straight WPIAL championship and fourth PIAA crown in five seasons. Then a sophomore, Sinciline was a member of the varsity squad but didn't play an active role during the title run.
As a junior, however, Sinciline ascended to North Allegheny's No. 2 singles position and was a prominent participant in the Tigers' sixth straight WPIAL championship.
"That (championship) was more meaningful than anything else. The drive that I had the summer going into my junior year was more than I ever had. I was going to do anything in my power to be the best tennis player I could be for my team."
Following North Allegheny's 3-2 win over Shady Side Academy in the 2018 WPIAL finals, the Tigers' bid for another PIAA crown fell just short with a 3-1 loss to Conestoga in the PIAA semifinals.
Already a linchpin in the NA lineup, Sinciline's role expanded exponentially when she was named a team captain entering her senior season in 2019.
"My perspective of being a captain was being very guiding and teaching. Our team was very young this year and there was a lot of freshmen players. I felt the need to show everyone the way and help teach them what being a teammate is all about."
Sinciline was a tremendous leader off the court as well, hosting team bonding events and even going as far as driving her teammates to practice.
"Yes, I was the Uber driver," said Sinciline jokingly. "I would pick anyone up at any given time to go to practice or I would also take large groups of us to practice. It was really fun and we had a good time in the car together."
Sinciline's selfless and exemplary effort as team captain helped the Tigers to another fine season. North Allegheny won a section title with a perfect 8-0 record and reached the WPIAL semifinals before eventually bowing out in the postseason.
Exhibiting North Allegheny's dominance in the section, both Sinciline and freshman teammate Nora Catanzarite reached the finals in the Section 2-AAA singles tournament. Sinciline finished as the runner-up to Catanzarite but posted a big win in the semifinal round over top-seeded Isabella Gaydosh of Mars, 6-1, 6-1, to reach the section championship. The victory over Gaydosh is one of Sinciline's most memorable.
"Earlier in the year I had lost to Mars' number two player. To beat (Gaydosh) in the semifinals felt really good."
At the Section 2-AAA doubles tournament, Sinciline and Catanzarite joined forces and rolled through the competition. In the section championship, the NA duo defeated Kira Ley and Ella Patton of Moon, 6-0, 6-1, to claim section gold.
After graduation, Sinciline will attend the University of Connecticut where she'll pursue a double major in Psychology and English. She is planning on continuing her tennis career at the club level at UCONN.