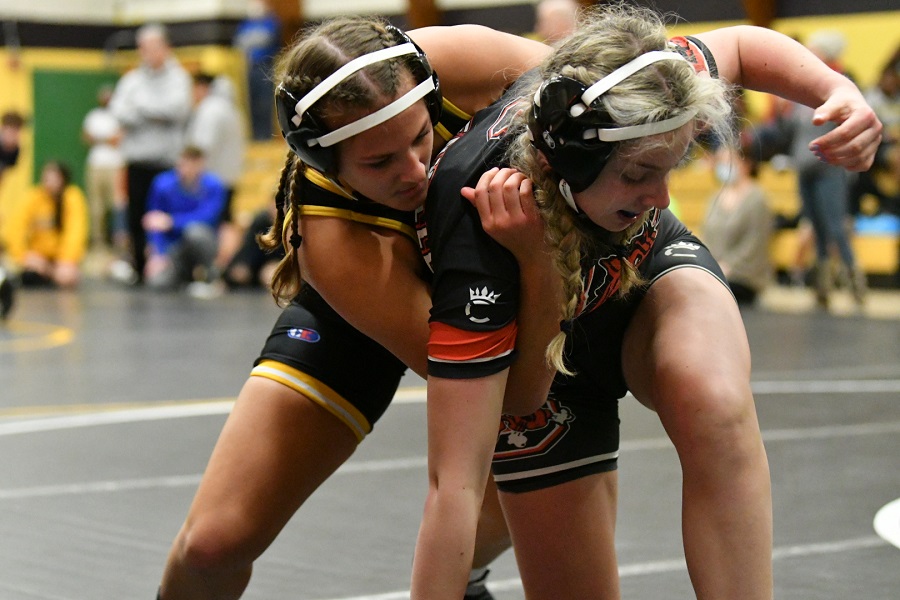 Three Lady Tigers Crowned Champions at Wright Automotive Girls Tournament
(1/22/22) North Allegheny hosted the first ever Wright Automotive Girls Wrestling Tournament, which was also the first girls' event to be hosted at North Allegheny. A total of eight different schools sent girls wrestlers to the event. Seven Lady Tigers toed the line in hopes to bring home gold in this inaugural event. The Lady Tigers finished in second place as a team, the highest finish as a team in school history.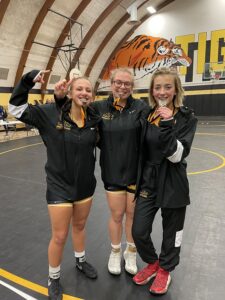 The Lady Tigers were paced by three wrestlers that claimed gold on the day. Putting together her best performance of the year was senior Taylor Stover who went 4-0 at the 113-120 weight class with two falls and a major decision. In what proved to be the championship match, Stover secured a reversal and back points with 16 seconds remaining to break open a 4-4 tie against Madi Mansmann of Canon Mac and win 8-4. Also placing first was junior Hannah Williams who pinned both of her opponents on the day in the 97-106 weight class. Sophomore Leyna Rumpler, competing at 140-148, secured three falls and finished 4-0. These three Lady Tigers were the three members of the first ever NA girls wrestling team that started last year. They were also the first ever to claim tournament championships in the history of the girls program.
Sophomore Audrey Morrison put in a strong performance at 140-148. She finished in second place with a 3-1 record and three falls. Her lone loss was to teammate Leyna Rumpler by a score of 16-9. Freshman Brenna Collery also brought home silver, going 3-2 at the 132-140 weight class. She had three falls on the day and brought the fireworks. Collery was losing 4-3 to Ana Gross of Steubenville late in the third period before getting the go ahead takedown and securing the fall with 7 seconds left in the match. Determined to show that a match is never out of reach, despite losing 7-2, she picked up the fall with one second left in the match to beat Bella Arnold of Canon Mac.
Also competing for the Lady Tigers were freshmen Kaylee Dean (170-172) and Maya Scott (132-140).
The Lady Tigers are in action again on Saturday Feb. 5 at the Western Pennsylvania Girls Championships at North Allegheny Intermediate at 9:00 a.m.