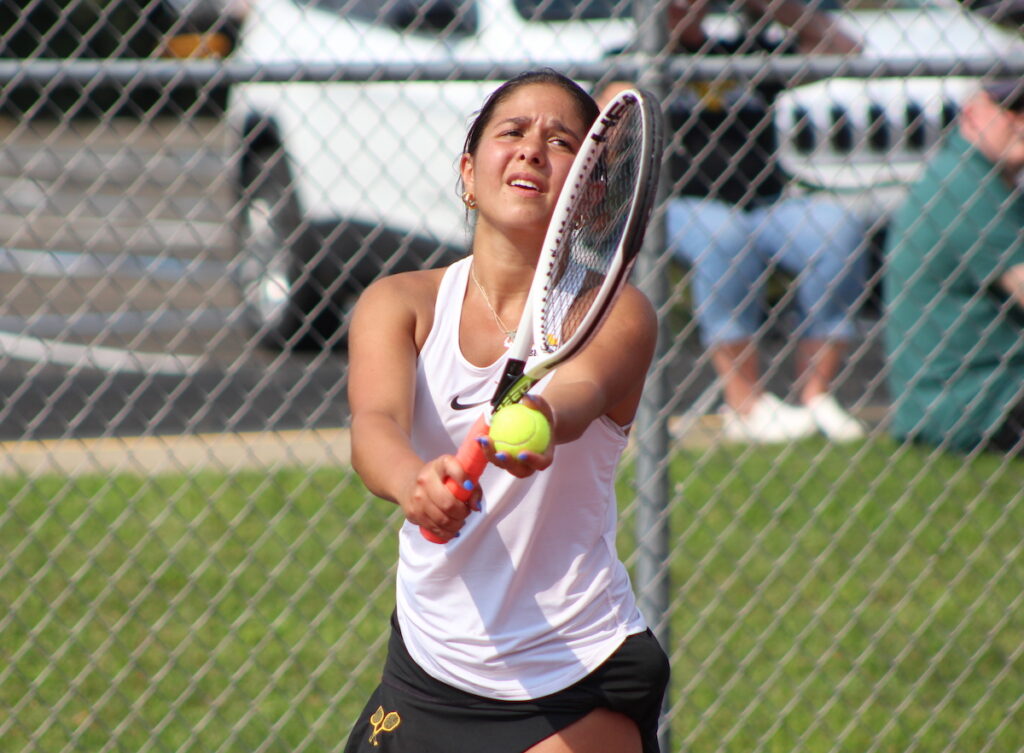 Tigers bounce back with sweep of North Catholic
by Jonathan Spina
After falling to Mt. Lebanon on Friday, the North Allegheny girls tennis team bounced back by defeating North Catholic, 5-0, on Tuesday afternoon at North Allegheny High School.
At No. 1 singles, freshman Peyton Mauser earned an exciting 7-5, 6-1, win over Katie Hardy. Sophomore Audrey Zheng delivered a 6-1, 6-0, victory against Sam Falcon at No. 2 singles. Senior Tia Soussou added a 6-1, 6-2, triumph over Brea Kelley at No. 3 singles.
It was more of the same in double play, including a 6-0, 6-4, win by Siya Jain and Rebecca Murphy over Lucy Miller and Paige Ditson at No. 1 doubles. The No. 2 doubles tandem of Kaitlyn Zeman and Ella Mangene collected a 6-2, 6-0, victory against Jessica Sinclair and Caroline Adams.
With the win, North Allegheny improves to 13-1 overall on the season. North Allegheny will compete in the Section Doubles tournament tomorrow before hosting Pine-Richland on Monday at 3:30 p.m.
Girls Tennis Summary vs. North Catholic, 9-26-23
Match Summary

NORTH ALLEGHENY - 5
NORTH CATHOLIC - 0
SINGLES
#1
Peyton Mauser (NA) def. Katie Hardy (NC)
7-5, 6-1
#2
Audrey Zheng (NA) def. Sam Falcon (NC)
6-1, 6-0
#3
Tia Soussou (NA) def. Brea Kelley (NC)
6-1, 6-2
DOUBLES
#1
Siya Jain/Rebecca Murphy (NA) def. Lucy Miller/Paige Ditson (NC)
6-0, 6-4
#2
Kaitlyn Zeman/Ella Mangene (NA) def. Jessica Sinclair/Caroline Adams (NC)
6-2, 6-0