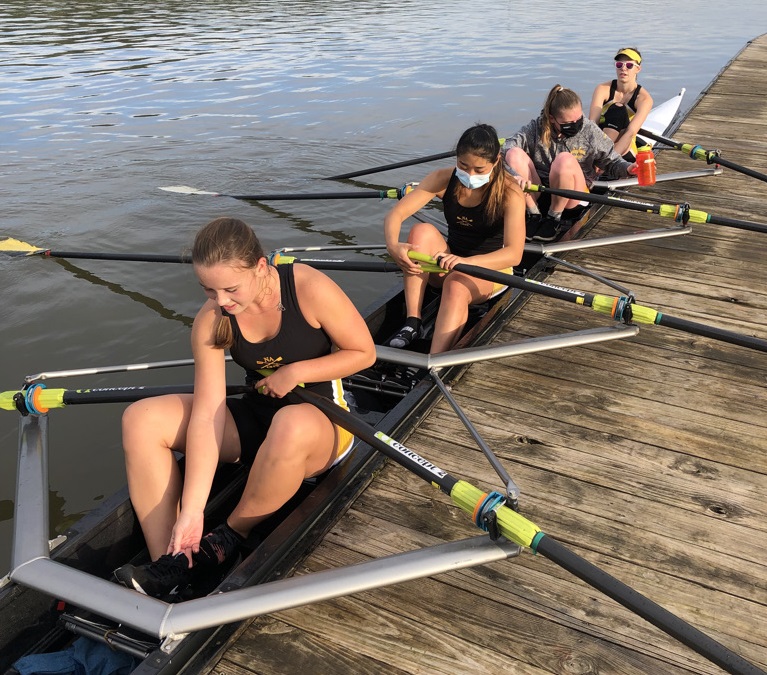 Tigers Bring Home 10 Medals At Morgan Grimm Invitational
North Allegheny Rowing traveled to West Virginia on 9/25/21 to participate in the Morgan Grimm Invitational Regatta hosted by Parkersburg High School.
The Tigers brought home 10 medals for the day across 11 events and 18 entries. For the varsity squad, first-place finishes included the Women's 4x A, (Aine Ridenour, Mirae Choe, Abby Bakkenist, Ashley Zeman) Women's 4+ (Lorelei Schreiber, Sawyer Wright, Athena Huber, MaryKate Griffin & Cox Evie Disque) Women's 2x A (Tabo Mkandawire, Alex Junko), Women's 1x (Alex Junko) and Women's 8+ (Johanna Edfors, Sawyer Wright, Lorelei Schreiber, Athena Huber, MaryKate Griffin, Jordan Quatchak, Felicity Smith, Alana Boronski Cox: Charlotte Bentrim). Silver medals went to the Women's 4x B (Johanna Edfors, Ally Harder, Felicity Smith, Rachel Lessure), and Women's 2x B (Charlotte Bentrim, Rachel Lessure), and in 3rd was the Men's 4x A (Jackson Rodgers, Braden Lemon, Wyatt Skopov- Normane, Caleb Sanders). Just out of medal contention in deep fields of competition was Micah Witzel taking 4th in the Men's 1x, and the Men's 2x A securing 5th (Micah Witzel & Jackson Rodgers).
The NA Rowing's 2021/22 Novice team raced for the first time this weekend with positive results, ultimately taking home 1st in the Novice Women 4x (Alex Witzel, Vanessa Edfors, Katherine Zema & Stella Summerlin), 3rd in the Novice women's 4+ (Mandy Adducci, Lauren Keyser, Zahra Evans, Abby Berger & Cox: Grace Thomas) and Novice Men's 2x (Karthik Palled & Layton Wright).
The Tigers race in downtown Pittsburgh next weekend at the Head of The Ohio.