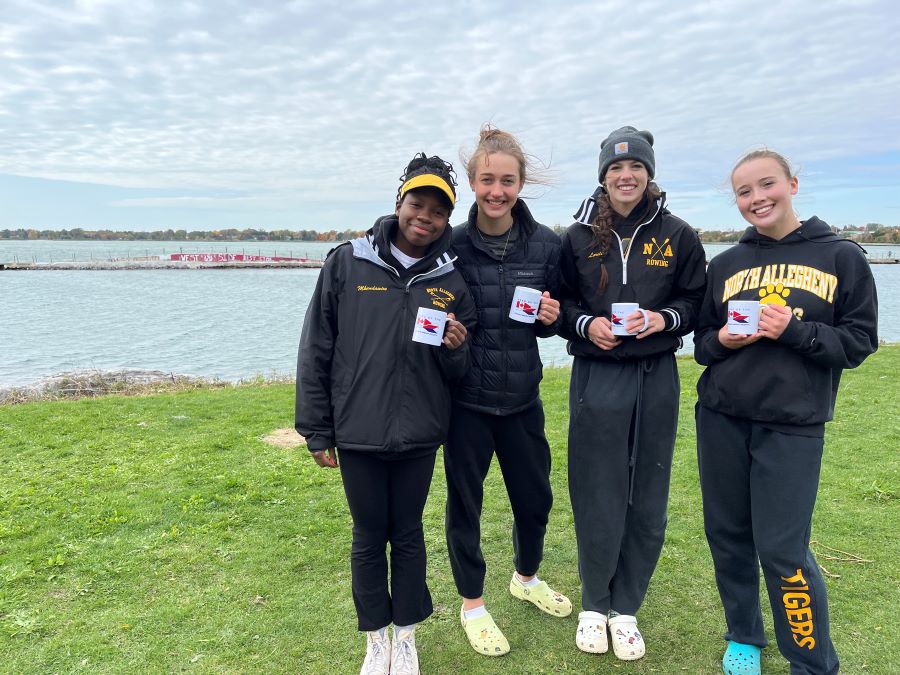 Tigers Compete at Head of the Buffalo, Niagara Race
North Allegheny traveled north to Buffalo, New York to race in the Head of the Buffalo and Head of the Niagara on 10/ 15 & 16. Unfortunately, the windy conditions seriously hinder racing and the Head of the Buffalo was completely canceled on Saturday.
Sunday's forecast was not much better and the wind progressively got worse resulting in the second half of the day being canceled as well. A few NA boats however did get to race. The Men's Novice 4+ placed 4th (Miles Reese, JD Petro, Cooper Lemon, Carson Carona C- Lucas Pater). Women's Varsity 4+ took 7th (MaryKake Griffin Sawyer Wright Athena Huber Zahra Evans C- Lauren Keyser). Women's Novice 4+ placed 6th (Noa Adelman Madison Lambert Alexandra Edfors Natalie Helfferich C- Ava Moore). Men's Varsity 4x took 2nd (Braden Lemon Zach Stamper Jackson Rodgers Caleb Sanders). And the  Women's Varsity 4x took 1st, bringing home the regatta's signature coffee mugs! (Tabo Mkandawire, Alex Witzel, Lorelei Schneider, Aine Ridenour).