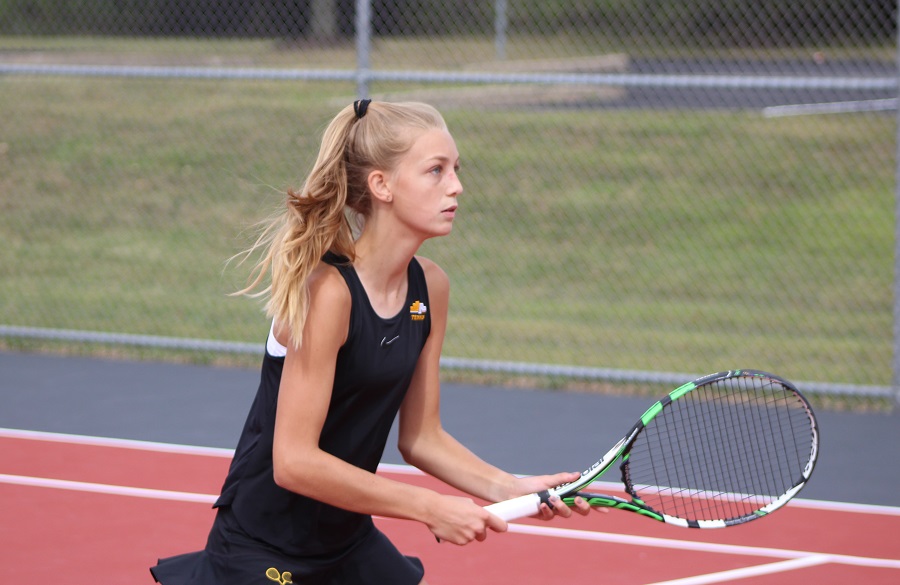 Tigers Cruise To 5-0 Sweep At Hampton
The North Allegheny girls' golf team won its sixth in a row on Thursday afternoon with a 5-0 sweep over Hampton. For the second straight day, the Tigers did not lose a single set in a rout of the Talbots.
Freshman Nora Catanzarite topped Gabby Miller at No. 1 singles by a score of 6-2, 6-0. Senior captain Ella Sinciline earned a 6-1, 6-0 victory at No. 2 singles. At No. 3 singles, junior Jenny Zhu collected a quick 6-1, 6-0 triumph over Karissa Miller.
In doubles play, Claire Shao and Abbey Swirsding coasted to a 6-1, 6-0 win over Lindsey Schwarzbach and Ella Hilton. At No. 2 doubles, Claire Zheng and Ashley Chung picked up a victory over Allie Crist and Leah Cummins by a 6-1, 6-2 decision.
With the win, North Allegheny jumps to 7-2 overall and 3-0 in section action. The Tigers visit Seneca Valley on Monday for another section matchup.
Girls Tennis Summary vs. Hampton, 9-5-19
Match Summary

NORTH ALLEGHENY - 5
HAMPTON - 0
SINGLES
#1
Nora Catanzarite (NA) def. Gabby Miller (H)
6-2, 6-0
#2
Ella Sinciline (NA) def. Megan King (H)
6-1, 6-0
#3
Jenny Zhu (NA) def. Karissa Miller (H)
6-1, 6-0
DOUBLES
#1
Claire Shao/Abbey Swirsding (NA) def. Lindsey Schwarzbach/Ella Hilton (H)
6-1, 6-0
#2
Ashley Chung/Claire Zheng (NA) def. Allie Crist/Leah Cummins (H)
6-1, 6-2