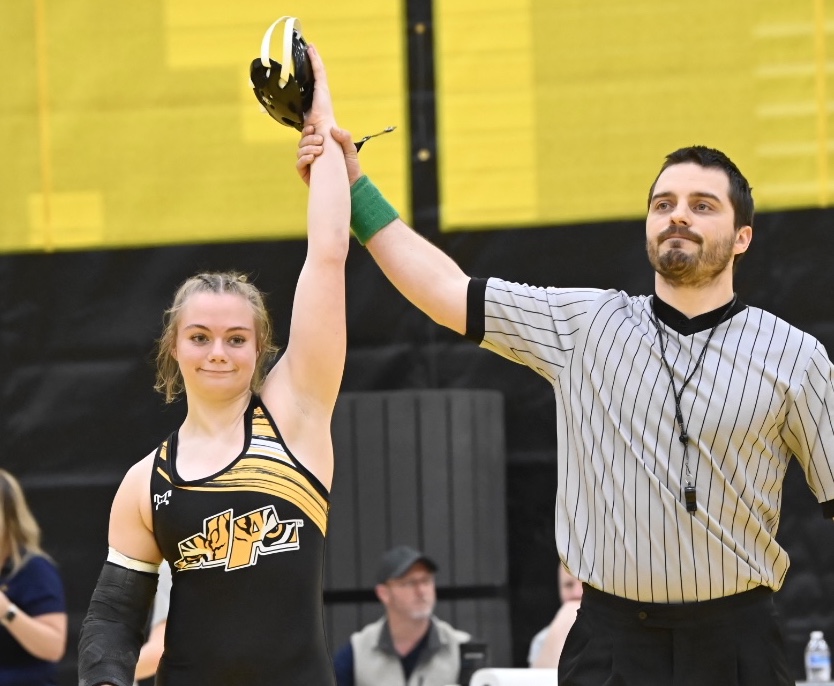 Tigers Dominate Quad-Meet, Leyna Rumpler Earns 50th Career Win
The North Allegheny girls' wrestling team hosted a quad-meet on Friday night and swept the evening with a trio of wins. The Tigers defeated Connellsville (45-6), Steubenville (42-30) and Saegertown (40-12). In the process, junior Leyna Rumpler notched her 50th career win, becoming for the first Lady Tiger to reach the 50-win plateau. Her pinfall against Samantha Hall of Saegertown accounted for the milestone victory. Rumpler finished with three wins and a pair of falls on the day.
Another dazzling performance was delivered by freshman Sophia Folks, who went 5-0 on the night with four wins by way of pinfall. Junior Aubrey Morrison was 4-0 in her four bouts with three wins by fall. Senior Callie Rautenbach and sophomore Kaylee Dean each went 3-0. Rautenbach earned three wins by fall, while Dean picked up a pair of pinfalls. Sophomore Brenna Collery went 2-1 on the night with two pins.
North Allegheny's 42-30 win over Steubenville marked another program first. It was the first ever match in school and WPIAL history to wrestle only the 13 girl's weight classes and utilize forfeits.
Along with the NA finals, the other scores at the quad meet were as follows:
Saegertown-36 Steubenville-30
Saegertown-33 Connellsville-24
Steubenville-36 Connellsville-24
NA (3-0)
Saegertown (2-1)
Steubenville (1-2)
Connellsville (0-3)
North Allegheny improves to 4-2 on the season and will host Southmoreland on Wednesday night. The meet will be broadcast live by the North Allegheny Sports Network.
For full boxscores from all three NA matches from Friday's quad, see below.
Girls Wrestling Match Summary: NA vs. Connellsville
| Weight | Wrestlers | Score |
| --- | --- | --- |
| 130 | Sophia Folks (NA) pinned Janayah Nobles (C) | 11:17 |
| 148 | Callie Rautenbach (NA) pinned Makenzie Heitger (C) | 1:13 |
| 142 | Audrey Morrison (NA) pinned Jayli Mackey (C) | 0:39 |
| 136 | Allison Painter (C) pinned Ava Anthony (NA) | 2:24 |
| 136 | Brenna Collery (NA) Abigail Harvey (C) | 3:34 |
| 190 | Kaylee Dean (NA) pinned Imani Cameron-Botti (C) | 1:22 |
| 155 | Leyna Rumpler (NA) pinned Mackenzie Heitger (C) | 0:08 |
| 148 | Ava Frailey (NA) dec. Jayli Mackey (C) | 11-10 |
| 130 | Sophia Folks (NA) pinned Elianna Bossart (C) | 0:45 |
************
Girls Wrestling Match Summary: NA vs. Saegertown
| Weight | Wrestlers | Score |
| --- | --- | --- |
| 136 | Royale Reno-Gaus (SA) dec. Ava Anthony (NA) | 13-11 |
| 148 | Callie Rautenbauch (NA) pinned Samantha Hall (SA) | 0:28 |
| 235 | Kaylee Dean (NA) pinned Chelsea Wilson (SA) | 0:53 |
| 130 | Sophia Folks (NA) pinned Kylie Stafford (SA) | 1:07 |
| 136 | Kacie Mook (SA) pinned Brenna Collery (NA) | 3:58 |
| 142 | Royale Reno-Gaus (SA) dec. Ava Frailey (NA) | 9-7 |
| 235 | Amya Sanford (NA) pinned Chelsea Wilson (SA) | 3:59 |
| 142 | Audrey Morrison (NA) pinned Madyson Banik (SA) | 0:22 |
| 130 | Sophia Folks (NA) maj. dec. Elora Dillinger (SA) | 13-4 |
| 155 | Leyna Rumpler (NA) pinned Samantha Hall (SA) | 0:24 |
************
Girls Wrestling Match Summary: NA vs. Steubenville
| Weight | Wrestlers | Score |
| --- | --- | --- |
| 100 | Jahmiah-el Bey (ST) wbf | |
| 106 | No Match | |
| 112 | Shayann Oxley (ST) wbf | |
| 118 | Angela Bailey (ST) wbf | |
| 124 | Taylor Zimmerman (ST) wbf | |
| 130 | Sophia Folks (NA) pinned Nadia Kizito (ST) | 0:28 |
| 136 | Brenna Collery (NA) pinned Ana Gross (ST) | 0:24 |
| 142 | Audrey Morrison (NA) wbf | |
| 148 | Callie Rautenbach (NA) pinned Paige Toothman (ST) | 2:34 |
| 155 | Leyna Rumpler (NA) wbf | |
| 170 | Maya Scott (NA) wbf | |
| 190 | Kami Anthony (ST) wbf | |
| 235 | Kaylee Dean (NA) pinned Khyla Barner (ST) | 3:39 |
| | | |
| Extra Matches | | |
| | Khyla Barner (ST) pinned Brooke Radford (NA) | 1:48 |
| | Ana Gross (ST) pinned Ava Anthony (NA) | 2:51 |
| | Audrey Morrison (NA) pinned Paige Toothman (ST) | 1:50 |
************