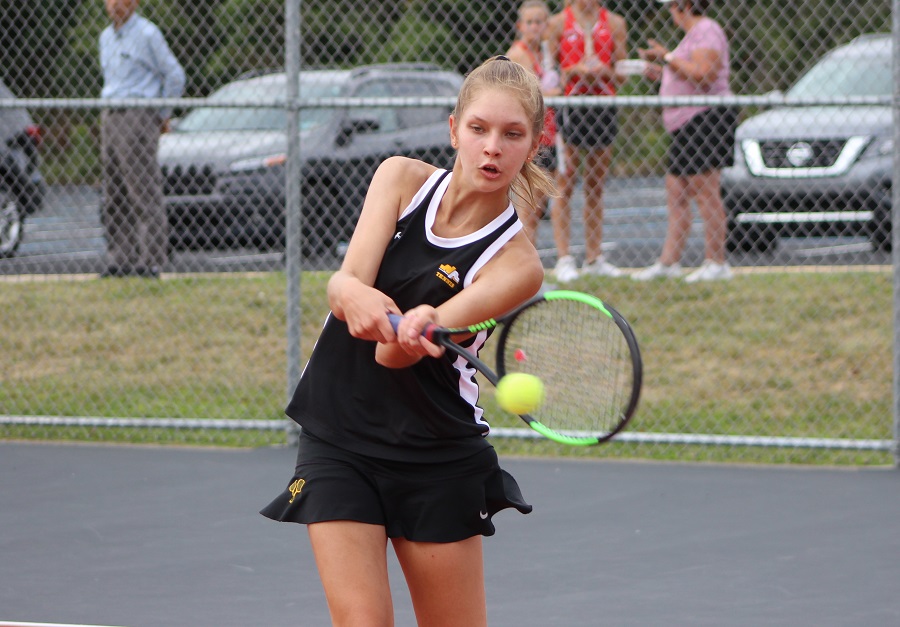 Tigers Earn Hard-Fought Win Over Shady Side Academy, 4-1
The North Allegheny girls' tennis team won its eighth in a row on Tuesday afternoon with a home victory over Shady Side Academy in non-section play. The contest was a rematch from last year's WPIAL championship. The Tigers defeated Shady Side a season ago by a 3-2 decision for their sixth straight WPIAL crown.
A pair of hard-fought wins in singles play helped the Tigers prevail. Ella Sinciline and Jenny Zhu each earned victories by scores of 6-4, 7-5. Sinciline topped Renee Long at No. 2 singles and Zhu defeated Nicole Poltinnikov at No. 3 singles.
The NA doubles teams were also impressive as Claire Shao and Emily Wincko grabbed a 6-4, 6-2 win over Avery Renkol and Maya Leyzarovich at No. 1 doubles. The No. 2 duo of Abbey Swirsding and Ashley Chung vanquished Elizabeth Curley and Jasminder Sarkoria by a 6-2, 6-2 decision.
With the win, North Allegheny leaps to 9-2 overall on the season. Members of the NA team will take part in the section singles tournament on Wednesday at NASH.
Girls Tennis Summary vs. Shady Side Academy, 9-10-19
Match Summary

NORTH ALLEGHENY - 4
SHADY SIDE ACADEMY - 1
SINGLES
#1
Ella Santora (SSA) def. Nora Catanzarite (NA)
6-1, 6-3
#2
Ella Sinciline (NA) def. Renee Long (SSA)
6-4, 7-5
#3
Jenny Zhu (NA) def. Nicole Poltinnikov (SSA)
6-4, 7-5
DOUBLES
#1
Claire Shao/Emily WIncko (NA) def. Avery Renkol/Maya Leyzarovich (SSA)
6-4, 6-2
#2
Abbey Swirsding/AshleyChung (NA) def. Elizabeth Curley/Jasminder Sarkoria (SSA)
6-2, 6-2