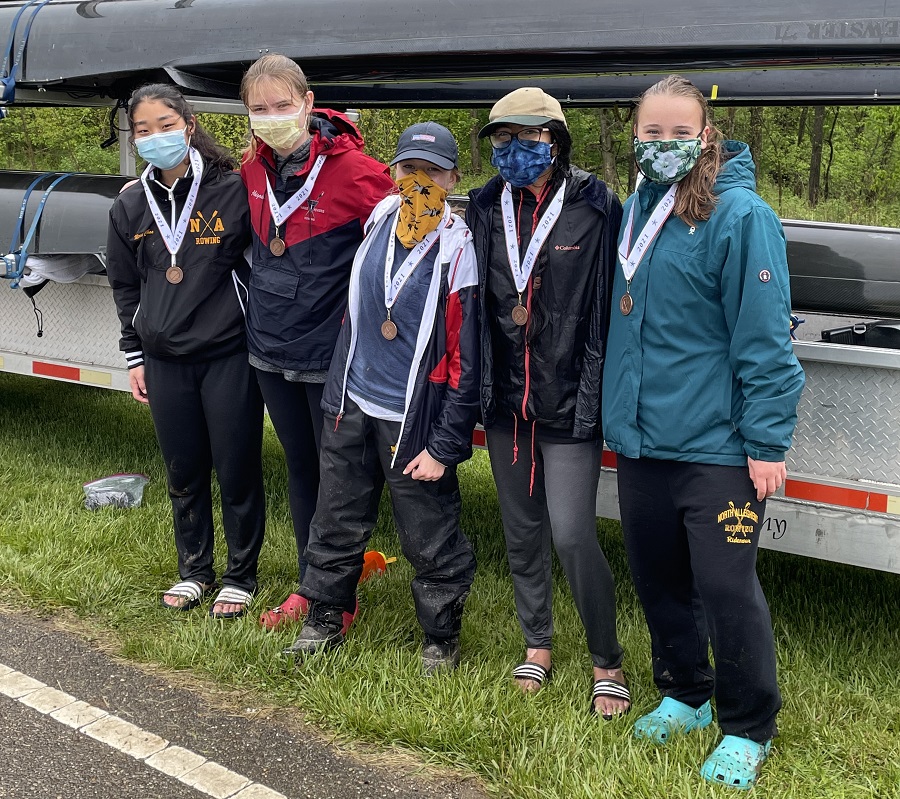 Tigers Excel At Midwest Scholastic Championships
North Allegheny Rowing traveled to Nashport Ohio for their largest field of competition yet at The Midwest Rowing Scholastic Championships on 5/8 & 9. The boy's team competed Saturday racing in the JV 2x, Varsity 4x, and JV 4+ events. The 4x and 4+ advanced out of morning time trials to Finals. The 4x finished 6th in a tight field and the same lineup immediately launched again to race in the 4+ finishing 4th. The Tigers can proudly say they raced some of their best pieces of the year.
The girls arrived early Sunday morning and found themselves up against the same competition as well as over an inch of rainfall and steadily dropping temperatures. After the morning's time trials, 5 of the team's entries advanced in the finals. Sadly, due to unsafe weather conditions, the afternoon's events were canceled. The Tigers' 7th entry, the novice 4x+ never got to race, and the morning's time trial standings served as the final results. Those standings are: V2x 5th, JV2x 4th, V4x 4th, Novice 8+ 7th, and the JV 4+ proudly brought home a podium finish for the Tigers, a 3rd place bronze. The JV4+ lineup consisted of Aine Ridenour, Abby Bakkenist, Mirae Choe, Felicity Smith, and senior coxswain Abhi Ajay.
The Boys 4+, Girls 4x, Girls Jr 2x, Lightweight 2x, and Freshmen 4x will travel to Philadelphia 5/13 – 15 to complete in the Stotesbury Cup Regatta, the nation's largest scholastic regatta.