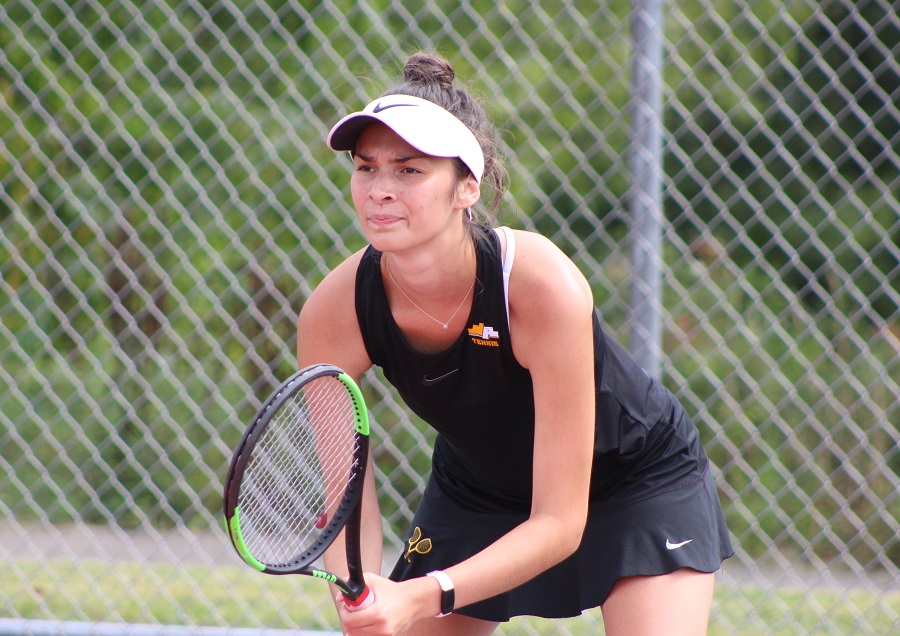 NA Tennis Secures Win Over Shaler, 5-0
The North Allegheny girls' tennis team won its 11th in a row on Tuesday afternoon with a 5-0 home sweep of the Shaler Titans in section action. It was also the third straight sweep for the Lady Tigers over a section foe.
Senior Ella Sinciline and junior Jenny Zhu didn't lose a single point with a pair of 6-0, 6-0 wins at No. 2 and No. 3 singles, respectively. Freshman Nora Catanzarite picked up a 6-2, 6-1 victory over Kayli Hannan at No. 1 singles.
In doubles play, Claire Shao and Emily Wincko defeated Zoe Smallwood and Julia Ehrenberger, 6-1, 6-0. At No. 2 doubles, Claire Zheng and Grace Lee earned a 6-0, 6-2 triumph over Andi Hubbin and Shannon Roche.
The victory gives North Allegheny a 12-2 record overall and 7-0 section mark. Members of the team will take part in the Section Doubles Tournament on Wednesday and Thursday.
Girls Tennis Summary vs. Shaler, 9-24-19
Match Summary

NORTH ALLEGHENY - 5
SHALER - 0
SINGLES
#1
Nora Catanzarite (NA) def. Kayli Hannan (SA)
6-2, 6-1
#2
Ella Sinciline (NA) def. Oliver Wilkins (SA)
6-0, 6-0
#3
Jenny Zhu (NA) def. Amber McGaffick (SA)
6-0, 6-0
DOUBLES
#1
Claire Shao/Emily Wincko (NA) def. Zoe Smallwood/Julia Ehrenberger (SA)
6-1, 6-0
#2
Abbey Swirsding/AshleyChung (NA) def. Andi Hubbin/Shannon Roche (SA)
6-0, 6-2