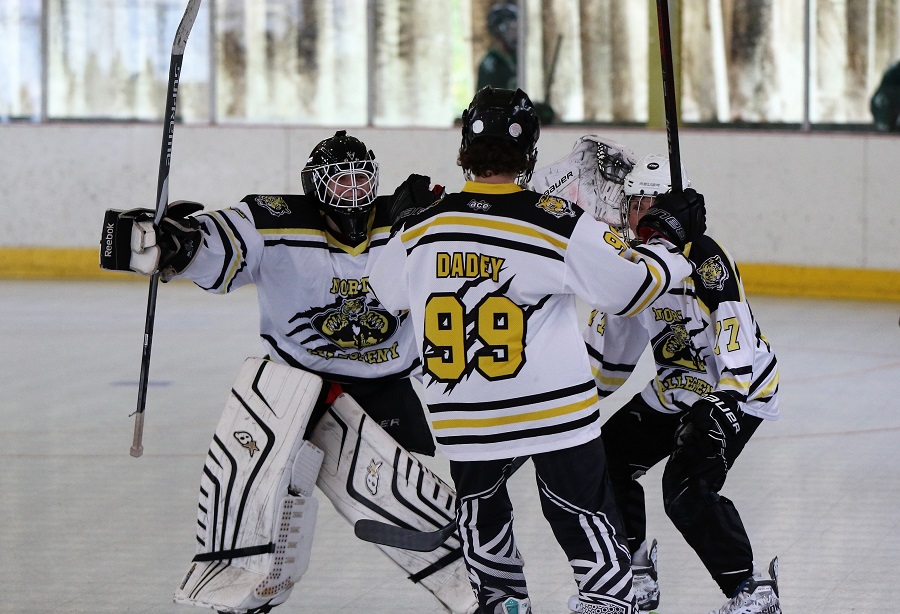 Tigers Stay Undefeated With OT Win Over Baldwin, 4-3
The North Allegheny Tigers held on for a 4-3 overtime victory against the Baldwin Highlanders on Sunday at Robert Morris University.  Junior Kyle Tomino led the way for Tigers with three goals on the afternoon.
In period one, it was a power play goal by Tomino, with an assist by sophomore Declan Dadey, to put the Tigers up 1-0.
In period two, Tomino once again with two more goals to complete the hat trick.  The Highlanders hung on for a last second goal to end the period at 3-1.
In the third period, the Highlanders coming out strong to put two more goals on the board to tie the game 3-3 and take the game into overtime.
In the 3-on-3 overtime, Dadey found the back of the net on a break-away goal to help the Tigers continue their undefeated season.  Sophomore goalie Mitchell Ludwick picked up the win.
The Tigers move to 6-0 on the season and will face Upper St. Clair next Sunday at RMU.