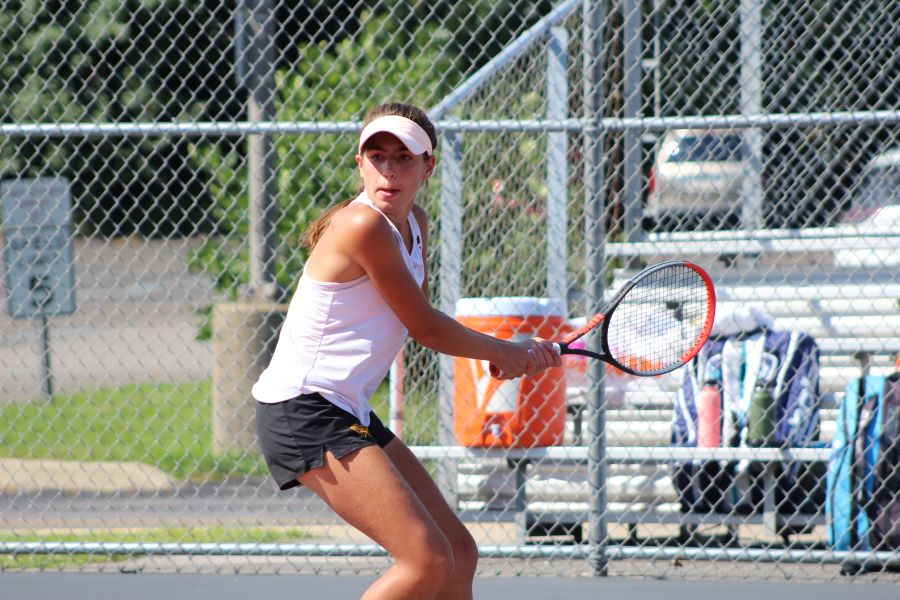 Tigers Sweep Butler to finish section schedule Perfect
North Allegheny finished off section play on Monday afternoon with a 5-0 victory over the visiting Butler Golden Tornado. The victory also meant that the Tigers finished with a perfect 7-0 record in section play.
Junior Sara Fernandez rolled through her match for a 6-0, 6-1 win against Jillian Clark in No. 1 singles. Senior Emily Wincko topped her opponent at No. 2 singles, Allison Smith, by a 6-1, 6-0 decision. Senior Abbey Swirsding completed the sweep in single play by defeating Mikayal Turner 6-0, 6-1, at No. 3 singles.
Similar to the singles dominance by NA, doubles was more of the same with the top pair of Reagan Dougherty and Eileen Hu toppled Cameron Hanratty and Carly Devoe 6-0, 6-0, and the No. 2 doubles tandem Tia Soussou and Rebecca Murphy earned a 6-1, 6-0 victory over Liani Spohn and Olivia Culp.
With the win, North Allegheny improves to 10-2 overall and finishes 7-0 in the section. The Tigers will finish out the regular season tomorrow when they host Franklin Regional at 3:30 pm in a playoff tune-up.
Girls Tennis Summary vs. Butler, 10-3-22
Match Summary

NORTH ALLEGHENY - 5
BUTLER - 0

SINGLES
#1
Sara Fernandez (NA) def. Jillian Clark (BUT)
6-0, 6-0
#2
Emily Wincko (NA) def. Allison Smith (BUT)
6-1, 6-0
#3
Abbey Swirsding (NA) def. Mikayla Turner (BUT)
6-0, 6-1
DOUBLES
#1
Reagan Dougherty/Eileen Hu (NA) def. Cameron Hanratty/Carly Devoe (BUT)
6-0, 6-0
#2
Tia Soussou/Rebecca Murphy (NA) def. Liana Spohn/Olivia Culp (BUT)
6-1, 6-0