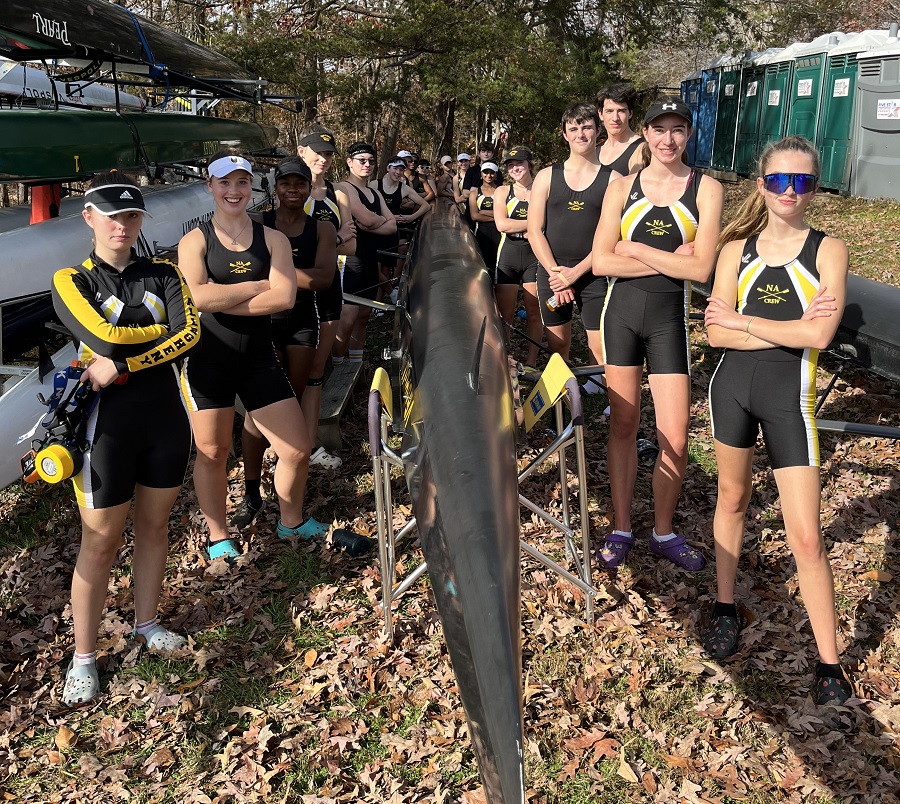 Tigers Take Part In Head of the Occoquan
The Tigers wrapped the Fall 2022 season with a trip to Fairfax VA to race some stiff competition at The Head of the Occoquan on Sunday 11/5.
The team raced hard and learned a lot in preparation for the spring season against the competition they don't typically see until May or June.  The top finishes of the day go to the Men's 4x taking 4th (Braden Lemon Zach Stamper Jackson Rodgers Caleb Sanders) and the Women's 4x taking 5th (Tabo Mkandawire, Alex Witzel, Lorelei Schneider, Aine Ridenour).
Outperforming expectations as they raced up a category is due to the Men's Novice 4+ who finished in 8th place (Miles Rees,  JD Petro,  Cooper Lemon,  Carson Carona, cox: Lauren Keyser) Additional highlights from the day go to the Women's 2xs who captured 6th (Tabo Mkandawire & Aine Ridenour) & 7th (Alex Witzel & Lorelei Schneider).
The day wrapped with some fun racing in the Mixed Open 8+s who took teamwork and team spirit to the water and finished 5th & 9th. (Aine Ridenour, Tabo Mkandawire, Lorelei Schreiber,  Zach Stamper, Braden Lemon, Jackson Rodgers, Caleb Sanders, Adaline Cooper Cox Evelyn Disque) & (Sawyer Wright, Mason Pavely,  Anthony Bertucci, MaryKate Griffin, Arshia Zaidi, Josh Dubouvecky, Alana Boronski, Layton Wright, Cox Lauren Keyser)
Winter Training begins on December 5th at NAI and the Tigers will race again on the water on April 22nd in the 2023 Mitten Racing Series in Kensington, Michigan.