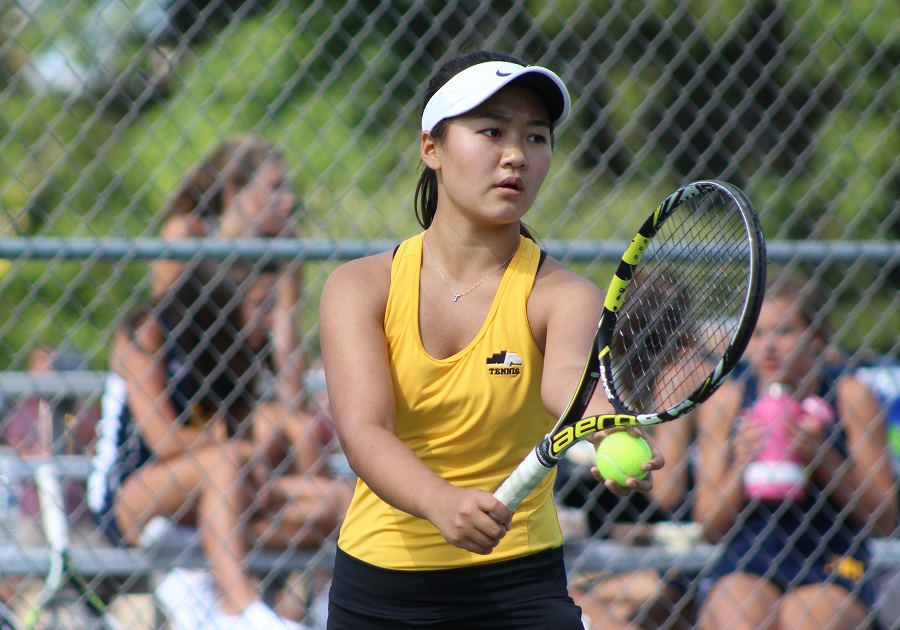 Tigers Tame Panthers In WPIAL Quarterfinals, 4-1
The North Allegheny girls' tennis team earned a 4-1 victory over the Upper St. Clair Panthers in the WPIAL quarterfinals on Tuesday afternoon at NASH.
The Lady Tigers won their fourth straight behind a strong outing in singles play. At No. 1 singles, Cornell University commit Ashley Huang served up a 6-0, 6-0 sweep of Anna Rush. Junior Ella Sinciline captured a 6-3, 6-2 victory over Bella Goldman at No. 2 singles. Sophomore Jenny Zhu followed suit with a 7-5, 6-0 triumph at No. 3 singles over Sabrina Slagle.
In doubles play, NA's Claire Shao and Riya Yadav rallied for a win over Danni Gibbons and Gia Winseck by scores of 3-6, 6-4, 10-8. Upper St. Clair's only win came at No. 2 doubles courtesy of a 6-4, 6-3 victory by Meha Patel and Leah Lund.
North Allegheny leaps to 12-2-1 on the season and advances to the WPIAL semifinals to face the Mt. Lebanon Blue Devils at 3:00 p.m. at Sewickley Academy High School. The Tigers earned their first win of the season against the Blue Devils back on Aug. 23 by a 4-1 decision. The contest is also a rematch of last year's PIAA semifinals.
Girls Tennis Summary vs. Upper St. Clair, 10-16-18
Match Summary

NORTH ALLEGHENY - 4
UPPER ST. CLAIR - 1
SINGLES
#1
Ashley Huang (NA) def. Anna Rush (USC)
6-0, 6-0
#2
Ella Sinciline (NA) def. Bella Goldman (USC)
6-3, 6-2
#3
Jenny Zhu (NA) def. Sabrina Slagle (USC)
7-5, 6-0
DOUBLES
#1
Claire Shao/Riya Yadav (NA) def. Danni Gibbons/Gia Winseck (USC)
3-6, 6-4, 10-8
#2
Meha Patel/Leah Lund (USC) def. Shria Moturi/Ashley Chung (NA)
6-4, 6-3