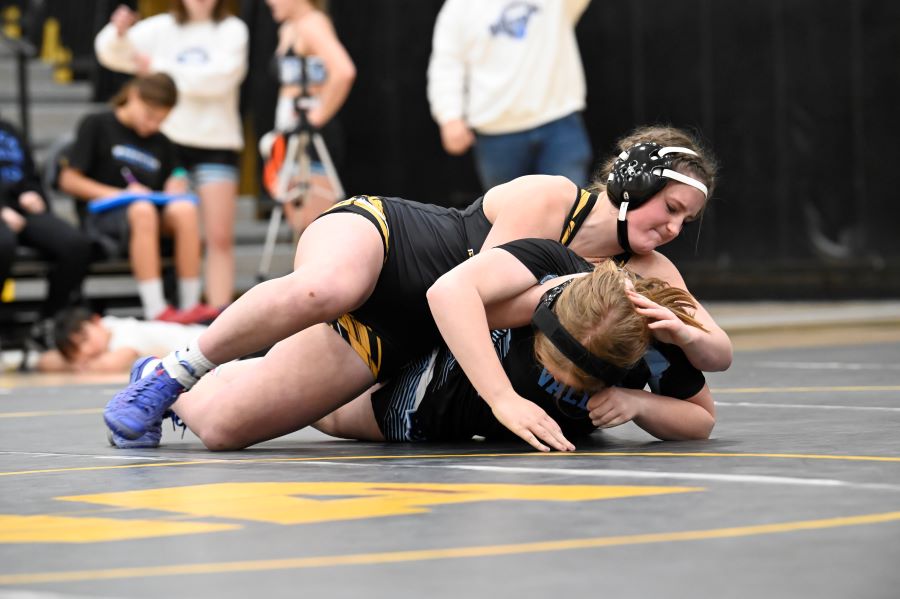 Tigers Top Raiders In First Section Meet In Program History
North Allegheny hosted Seneca Valley for the first girls' section match in program history on Wednesday night and picked up an impressive 57-18 victory over the visiting Raiders. It was also the first ever WPIAL North section girls' match.
Facing a 6-0 deficit following the first bout of the night, North Allegheny rattled off five consecutive wins to take command. Sophomore Brenna Collery tied the score at 6-6 with a win by fall over Rowan Myers in 2:20. Senior Callie Rautenbach earned a win by fall over Hunter Haley for a 12-6 lead and freshman Sophia Folks extended the lead to 15-6 thanks to an impressive 6-0 decision over Natalie Tofanelli. For her efforts, Folks was named the Wright Automotive Wrestler of the Match.
After Folks' victory, freshman Ava Anthony and junior Audrey Morrison notched back-to-back pin falls in under a minute to give NA a 27-6 advantage.
North Allegheny's momentum was temporarily halted when Hannah Hornick earned a win by fall to trim the Tigers lead to 27-12. The Tigers immediately got back to business and took five of the final six bouts to cruise to a 57-18 win. Down the stretch, the Tigers received pin falls courtesy of junior Leyna Rumpler, sophomore Maya Scott, sophomore Kaylee Dean, sophomore Bella Cuomo and Rautenbach to close out the first ever section win for the NA girls' wrestling program.
With the win, North Allegheny improves to 1-1 on the season. The Tigers return to action on Wednesday, Jan. 25 with a visit to Southmoreland.
Girls Wrestling Match Summary: NA vs. Seneca Valley
| Wrestlers | Score |
| --- | --- |
| Madison Cardinal (SV) pinned Bella Cuomo (NA) | 2:53 |
| Brenna Collery (NA) pinned Rowan Meyers (SV) | 2:20 |
| Callie Rautenbach (NA) pinned Hunter Haley (SV) | 2:27 |
| Sophia Folks (NA) dec. Natalie Tofanelli (SV) | 6-0 |
| Ava Anthony (NA) pinned Harlee Hornick (SV) | 0:55 |
| Audrey Morrison (NA) Carriss Avondo (SV) | 0:51 |
| Hannah Hornick (SV) pinned Ava Frailey (NA) | 0:41 |
| Leyna Rumpler (NA) pinned Carlyni Sedar (SV) | 3:29 |
| Maya Scott (NA) pinned Anna Hardt (SV) | 1:52 |
| Kaylee Dean (NA) pinned Genevieve Citrone (SV) | 4:39 |
| Bella Cuomo (NA) pinned Sara Breeger (SV) | 5:14 |
| Maddie Fischer (SV) pinned Brenna Collery (NA) | 1:30 |
| Callie Rautenbach (NA) pinned Kenley Alexander (SV) | 0:59 |