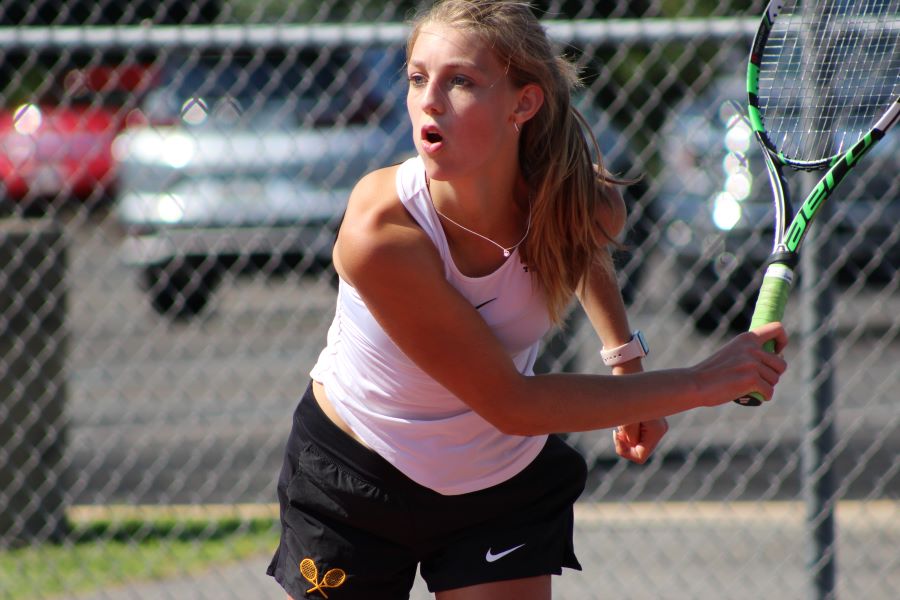 Tigers Top Titans In Section Opener, 5-0
The North Allegheny girls' tennis team opened section play on Wednesday afternoon with a dominating 5-0 sweep at home against the Shaler Titans.
The Tigers controlled the action in singles play with near perfect performances by Sara Fernandez, Emily Wincko and Abbey Swirsding. All three singles players posted a 6-0, 6-0, triumph over their opponent.
NA's success in doubles play similar. The No. 1 pairing of Reagan Dougherty and Rebecca Murphy defeated Cami Kwiatkowski and Natalie Ondo, 6-0, 6-3. At No. 2 doubles, Rebecca Kolano and Siya Jain rolled to a 6-1, 6-1, victory against Valentina Navas and Devyn Campbell.
Following the win, North Allegheny jumps to 3-0 overall and 1-0 in section play. The Tigers return to action on Thursday at Seneca Valley in another section contest.
Girls Tennis Summary vs. Shaler, 8-31-22
Match Summary

NORTH ALLEGHENY - 5
SHALER - 0
SINGLES
#1
Sara Fernandez (NA) def. Elyza Wiles (SA)
6-0, 6-0
#2
Emily Wincko (NA) def. Jesie Wilkins (SA)
6-0, 6-0
#3
Abbey Swirsding (NA) def. Paige Sigmund (SA)
6-0, 6-0
DOUBLES
#1
Reagan Dougherty/Rebecca Murphy (NA) def. Cami Kwiatkowski/Natalie Ondo (SA)
6-0, 6-3
#2
Rebecca Kolano/Siya Jain (NA) def. Valentina Navas/Devyn Campbell (SA)
6-1, 6-1