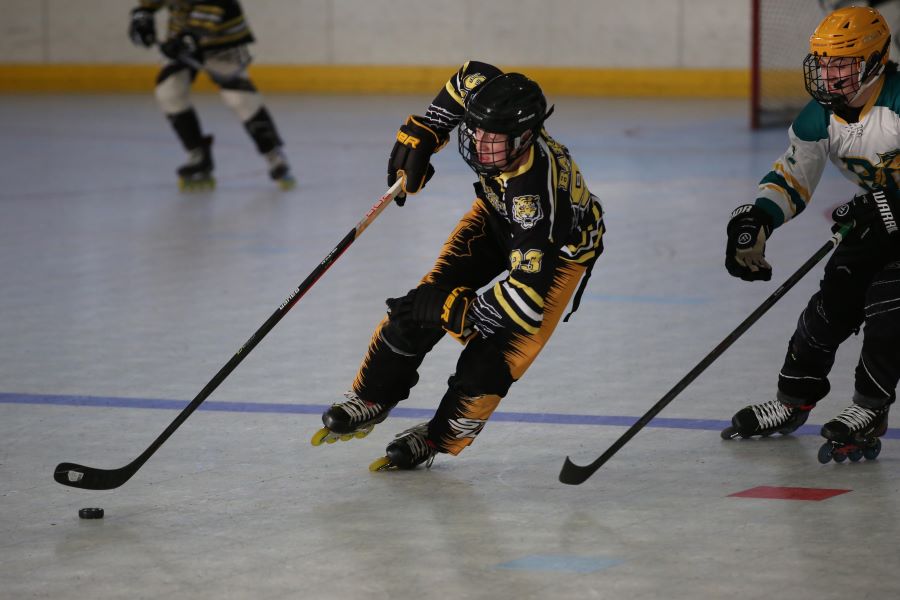 Tigers Wallop Warriors In Game One of Championship Series, 8-4
The North Allegheny Inline Tigers claimed victory in game one of the best-of-three championship series against the Penn Trafford Warriors at the RMU Island Sports Center on Sunday by a score of 8-4.
The Tigers put on an offensive clinic in the first period, scoring seven of their eight goals in the period while holding the Warriors to just one marker. Five different Tigers netted goals in the period. Leading the charge was senior Brett Baker with three, followed by junior Jacob Rice, junior Logan Cerqua, senior Evan Barnhart and senior Kyle Tomino all with one goal each, ending the frame with the Tigers leading 7-1.
In the second period, the Warriors knuckled down defensively holding the Tigers to one additional goal by Baker while notching two of their own, ending the period with the Tigers up by a score of 8-3. The Warriors held the Tigers scoreless in the final frame and added one additional goal to their tally, but it was the Tigers who held on for the win with a final score of 8-4.
Junior goalie Mitchell Ludwick earned the win as the Tigers lead the three-game championship series 1-0. Game two of the series is scheduled for Saturday, at 7:00 p.m. at the RMU Island Sports Center.