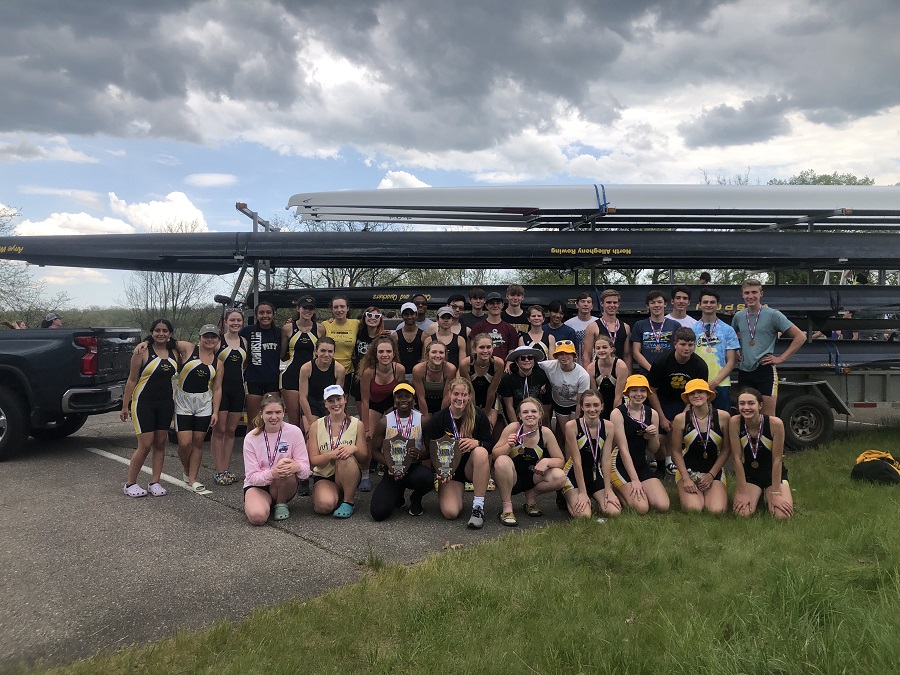 Two Golds, Two Bronze for the Tigers at MSRA
5/14 & 15, 2022
Midwest Scholastic Rowing Championships
Kathryn Bennett Race Course, Milford MI
The Tigers took to the water to race at Midwest Scholastic Championships for just the second time this spring after flooding and thunderstorms canceled 3 of the season's races. Saturday's time trial and semifinals fared very well for the squad with 9 of the teams 15 entries to the A Final and, 2 to the B Final so that Sunday showcased 13 entries from the Tigers (2 straight finals).
Finals day started off with the Boys Varsity 2xs placing 7th & 8th (Braden Lemon & Wyatt Skopov Normane, Jackson Rogers & Micah Witzel). Next down the course in lane 8 was the Girls Freshman 8+ the boat started out strong with a tight race pack placing 8th at the finish.
The Women's Varsity Quad finished first a full 14.9 seconds ahead of second place securing an entry for both SRAAs and Youth Nationals. (Tabo Mkandawire, Aine Ridenour, Abigail Bakkenist, Alexandra Junko). Immediately following them on the course was the girls Junior 8+ in their B final. The lineup had an absolutely powerhouse sprint at the end that brought them in second across the line, 10th place overall. (Lorelei Schreiber, Sawyer Wright. Athena Huber, Alana Boronski, Jordan Quatchack MaryKate Griffin, Addy Cooper, Kiki Majerac Cox: Evie Disque).
The 2 straight finals of the day were the Girls & Boys Novice Coxed Quads (Alex Witzel, Katherine Zema, Vanessa Edfors & Stella Sumerlin Cox: Lauren Keyser), (Layton Wright, Lucas Pater, Josh Dubuvecky, Kathik Pallad Cox: Jordan Quatchak) The girls brought home bronze and boys took 8th in the events first showing at MSRA.
The next medals dock showing for NA was the Girls Varsity 2x (Tabo Mkandawire, Alexandra Junko) the lineup had a tough start but powered through the field to take gold. Just behind them in 4th was the lightweight line-up of Charlotte Bentrim & Rachel Lessure who will see their first lightweight specific race opportunity next weekend at Stotesbury Cup.
The Tigers secured their 4th medal of the day in the Mens Varsity 4x who went stroke for stroke with Parkersburg finishing a tight 0.6 ahead for bronze. (Braden Lemon, Wyatt Skopov-Normane, Jackson Rogers, Micah Witzel).
The day wrapped with the Junior Girls 4+ taking 4th in the B final (Lorelei Schreiber, Sawyer Wright, Athena Huber, MaryKate Griffin Cox: Evie Disque).
Final standings for the day had the Tigers with 53 points, standing 3rd in the Women's Sculling points, 6th in the Men's Sculling and 14th/ 54 in the combined points standings.
Next up select line ups will head to Stotesbury Cup Regatta in Philadelphia PA 5/20-21.