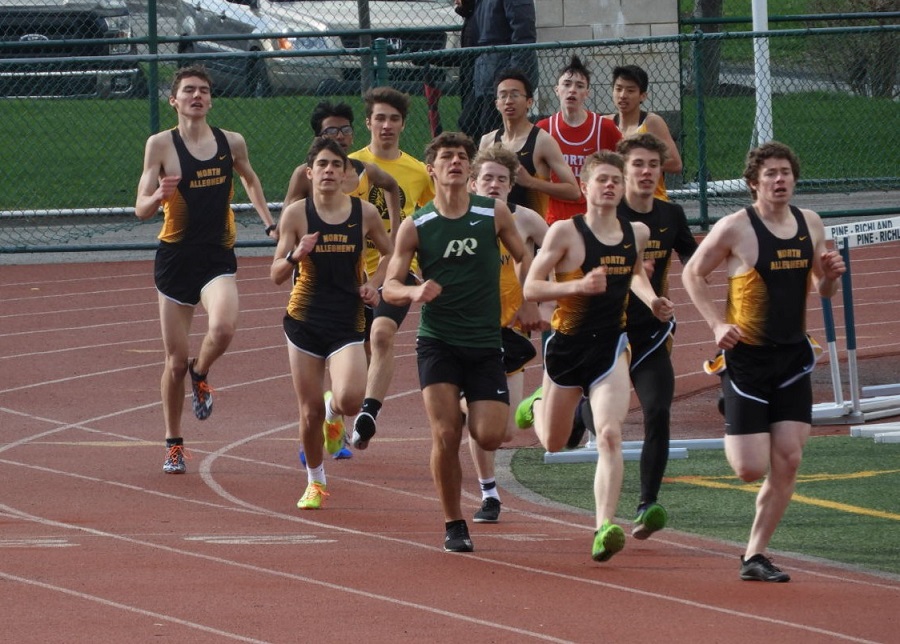 Four Big Wins for Tigers at Pine Richland
Despite the windy, cold conditions that Mother Nature had to offer, the NATF Tigers put forth a dominating effort against sectional rivals Pine Richland and North Hills. Both teams came home with lopsided victories in their favor.
Emily Naughton led the Tiger sprinters to a sweeping victory in the 100m Dash alongside teammates Bailee Miara and Morgan McConnell.  Hannah Lindgren and Makenzie Standish ran a 1-2 combo in the 1600m Run.  The middle-distance crew of Maura Mlecko, Ally Christy, and Samantha Boris swept the 800m Run.  The 3200m Run was also swept by the powerful runners of Keeley Misutka, Jenna Mlecko, and Taylor Rechenmacher.  The only field contestant to win against both teams was Brynn Serbin in the Discus. 
The NA boys scored every distance event point in the meet with Connor Foody winning the 800m Run followed by Kelso Fiedler and Andrew Baierl.  Dan McGoey cruised to a win in the 1600m Run with Ethan James and Scott Nalepa trailing not far behind.  Freshman trio of Ryan Podnar, Graham Wolfe, and Nalepa completed the sweep in the 3200m Run.  In the sprint events on the track, Brennan Donovan dashed to a win the 400 meters while hurdler Donovan Rice captured three first place finishes in both hurdle races and the 200m Dash.  Isaac Burt earned first place honors in the High Jump, while Nathan Stetson out-threw his opponents in the Discus. 
Several of the NATF Tigers will be competing in the Butler Invitational on Thursday. The next sectional meet is scheduled for next Tuesday against Fox Chapel and Shaler Area, at Shaler Middle School.