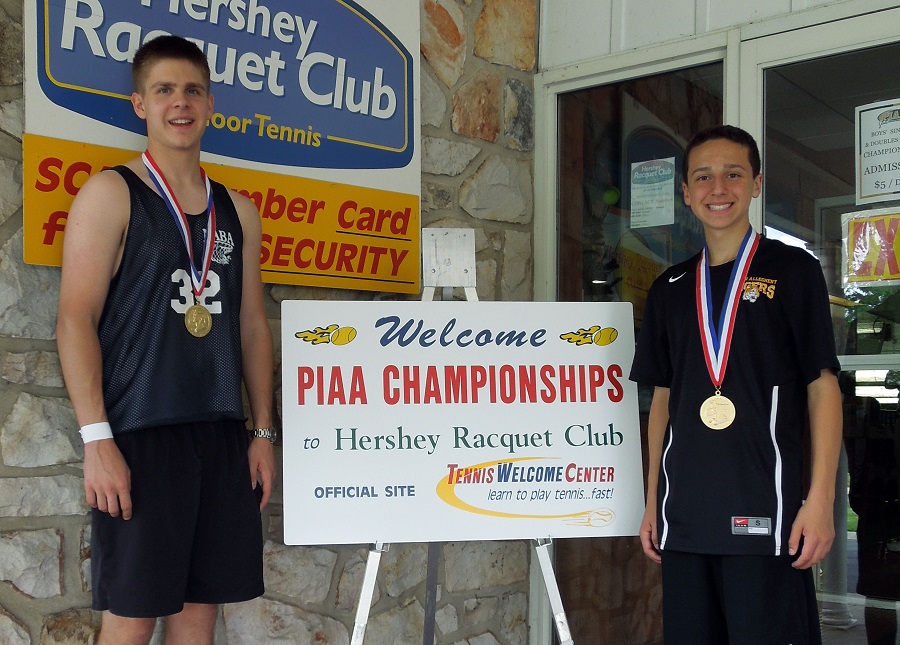 Goth, Isaacs Win PIAA Gold In Boys Doubles Championships
A two day journey to Hershey, PA, resulted in sweet dividends for the NA tennis duo of senior Kevin Goth and sophomore Jared Isaacs who captured PIAA gold in the Boys' AAA Doubles Tournament! Goth and Isaacs kicked off their play Friday afternoon at the Hershey Racquet Club by defeating the duo of Jai Radkar and Sahas Chandragiri of Abington Heights in straight sets in the preliminary round.  The quarterfinals, Friday evening, saw the Tigers matched up against Chad Allender and Ryan Hood of Altoona, who also fell in straight sets to Goth and Isaacs but in a more unusual fashion.  After taking a tie-break in the first set at 8-6, Goth and Isaacs fell behind quickly in the second set 0-4.  They roared back to win six straight games to claim the set and match.
The semi-final match Saturday morning pitted the Tigers against Dan Tormea and Tomas Christian of Abington, and Goth and Isaacs took the match in straight sets to advance to the championship contest.  The final match of Goth's career saw a stellar performance from the senior as he and Isaacs avenged their heartbreaking loss in the WPIAL Finals to the Shady Side Academy duo of senior Chris Grubbs and sophomore Michael Kann.  With outstanding play from both sides, the Tigers were able to secure the one break they needed to take the first set 6-4, a set that included bombastic serves from Goth and well placed volleys from Isaacs.  Both teams were on serve in the second set in another tight contest, but the Tigers broke through in dramatic fashion.  Grubbs was serving with the set squared 4-4, and he and Kann held a 40-0 lead in the game.  At that point, the Tigers came back with a big service break, winning the game to take a 5-4 lead and setting the stage for the clinching game.  In his last action of his outstanding high school career, Goth served out the set and took the clinching point on an outstanding serve that handcuffed the Shady Side sophomore.  This was the second PIAA Doubles championship for North Allegheny, with the last coming in 1990 off the rackets of Woffington and Gindele. For a look at the Class AAA Boys Doubles bracket, click here.
Congratulations to Kevin and Jared for an outstanding conclusion to the Tigers' Boys Tennis season!  Also, a special shout out goes to the NASD Athletic Office of Bob Bozzuto, Bonnie Woods and Patti McClure who offered their unwavering assistance and support all season long.
 North Allegheny Summary –PIAA Boys AAA Doubles Championship—Day One (5-23-14)
1st Round
Kevin Goth/Jared Isaacs (NA) def. Jai Radkar/Sahas Chandragiri (Abington Heights) 6-2, 6-2
Quarterfinal Round
Kevin Goth/Jared Isaacs (NA) def. Chad Allender/Ryan Hood (Altoona) 7-6 (8-6), 6-4
North Allegheny Summary –PIAA Boys AAA Doubles Championship—Day Two (5-24-14)
Semifinal Round
Kevin Goth/Jared Isaacs (NA) def. Dan Tomea/Tomas Christian (Abington) 6-2, 7-6 (7-2)
Championship Round
Kevin Goth/Jared Isaacs (NA) def. Chris Grubbs/Michael Kann (Shady Side Academy) 6-4, 6-4