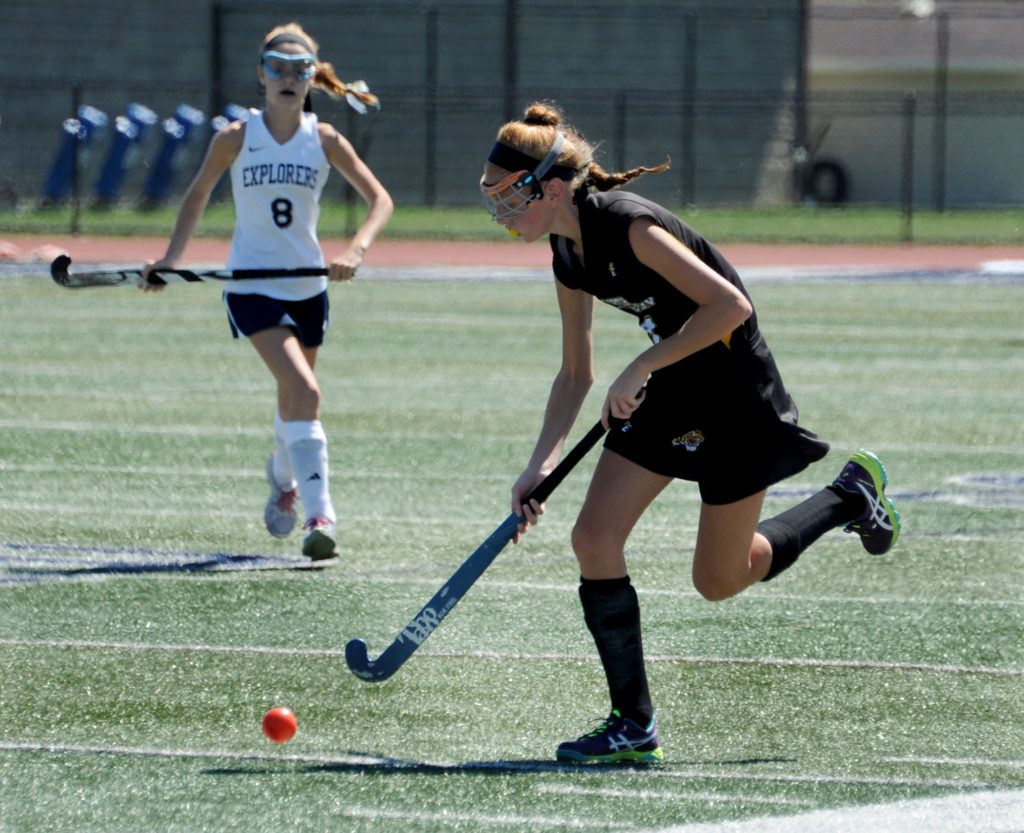 LADY TIGERS FALL TO EXPLORERS IN HUDSON, 3-1
The NA girls' field hockey team finished their two-game trip to Ohio with a game against the Hudson Explorers on Saturday.  Although the Lady Tigers fell 3-1, they showed significant improvement following Friday's contest against Hathaway Brown.   The Tigers came out aggressive and confident, matching the Explorer's intensity from the start.  The match swung back and forth for the first 15 minutes, with both teams penetrating each other's defensive zones.  Heading into the game, NA Head Coach Madelyn Berkley made the tactical decision to shore up the Tigers' defense, and she was rewarded with strong defensive play early on from seniors Gabby Herbert and Lily DeNoma and sophomore Kayley Cooper.  Herbert and Cooper each backstopped starting Tigers' goalie Katie Shideler with defensive saves in the first half to keep the game deadlocked.
At the 16:30 mark of the first half, Hudson forward Hannah Yard intercepted a Tigers' errant back pass and raced 60 yards down field to score on a breakaway against Shideler.  After the Hudson goal, NA seized control of the play and forced the action into the Explorers' defensive zone for much of the rest of the first half.  The Tigers' midfield of senior Brooke Cameron, junior Gracie Limauro and sophomores Bridget Russell and Laura Schwendeman continually pushed the ball up the field and forced the ball into Hudson's circle, giving NA its best scoring chances of the season so far.  Unfortunately, the Tigers were unable to take advantage of the opportunities, and the half ended with Hudson up 1-0.
Hudson started the second half quickly with Sarah Keller scoring a mere 2:30 into the half.  After Keller's tally, the teams exchanged punches and counter-punches for much of the rest of the half, until Yard scored again for Hudson with under 10 minutes remaining in the game.  The Lady Tigers finally lit the lamp with 4:18 left in the game, when sophomore forward Angie Genter, on a great individual play, stole the ball from a Hudson defender and scored on a breakaway.  Genter's goal was the reward for her strong offensive play throughout the contest.
The Lady Tigers return to action next Saturday, September 10, when they travel to Twin Valley to play in the Raider Classic.
GAME SUMMARY
SCORE BY HALVES                             1              2              FINAL
NORTH ALLEGHENY                         0              1              1
HUDSON                                               1              2              3
INDIVIDUAL STATS
FIRST HALF
Hudson                                   Hannah Yard             16:30
SECOND HALF
Hudson                                   Sarah Keller               27:50
Hudson                                   Yard                            9:21
North Allegheny                    Angie Genter              4:18