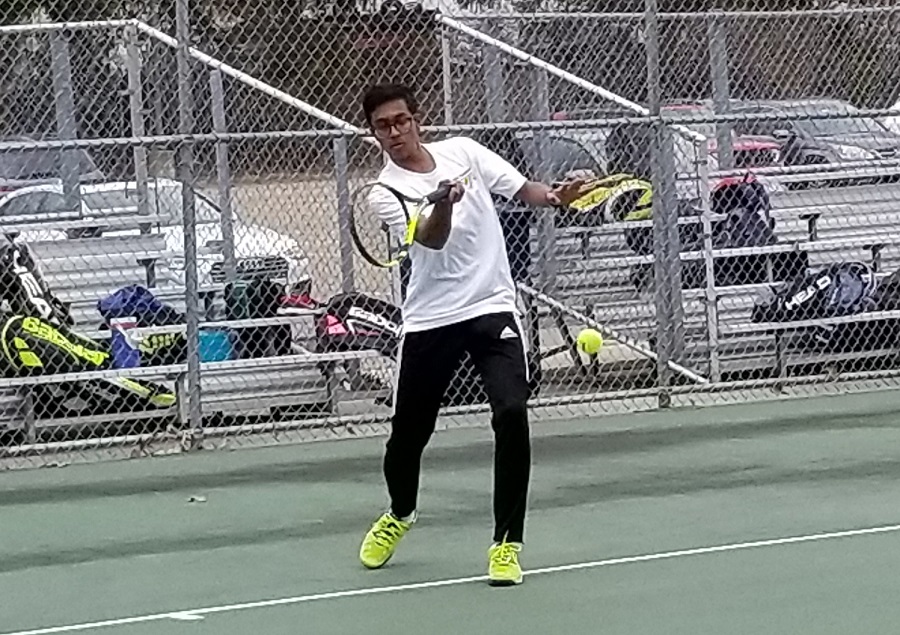 Tigers Beat Cathedral Prep, 4-1
Welcoming the Cathedral Prep Ramblers to the NASH courts Wednesday afternoon, the Tigers played an exhibition match against the perennial District 10 champion and won by a score of 4-1. 
Leading off the scoring for the Tigers was senior Soureesh Moturi who defeated Evan Rowane in straight sets without losing a game at number two singles.  Quickly following, junior Ethan Vodovotz defeated Corbin Glance in straight sets at number three singles. The match clincher came courtesy of the two seniors at number one doubles, Mark Chuirazzi and Jerry Huang, who held off Tom Prichard and Dave Estes in a tight match, also in straight sets.  Both teams were outstanding at holding serve, providing little margin for error in each set. The final point for the Tigers came at second doubles in a tightly contested and entertaining match.  Freshman Atharva Sumant and senior Rohan Cowlagi played a three set match and prevailed in an unusual contest where each set was decided by a tie break against Jon Horstman and Johnny Kretzing.  Rounding out the competition, junior Ven Naik acquitted himself well against Prep's talented ace, senior Matt DeMarco, the three-time defending PIAA Class AAA doubles champion..
The win moves the Tigers' record to a 12-1 mark as the season moves into the homestretch. The team returns to action Thursday afternoon versus the Hampton Talbots in another exhibition contest, this one against a former Section 2 squad. Match time is scheduled for 3:30 at the Hampton Community Park.
Match Summary – 04/17/19
North Allegheny—4   Cathedral Prep–1 
Singles
#1 Matt DeMarco (ECP) def. Ven Naik (NA) 6-3, 6-0
#2 Soureesh Moturi (NA) def. Evan Rowane (ECP) 6-0, 6-0
#3 Ethan Vodovotz (NA) def. Corbin Glance (ECP) 6-0, 6-1
Doubles
#1 Mark Chuirazzi/Jerry Huang (NA) def. Tom Prichard/Dave Estes (ECP) 7-5, 6-4
#2 Atharva Sumant/Rohan Cowlagi (NA) def. Jon Horstman/JohnnyKretzing (ECP) 6-7 (5), 7-6 (3), 7-6 (10)