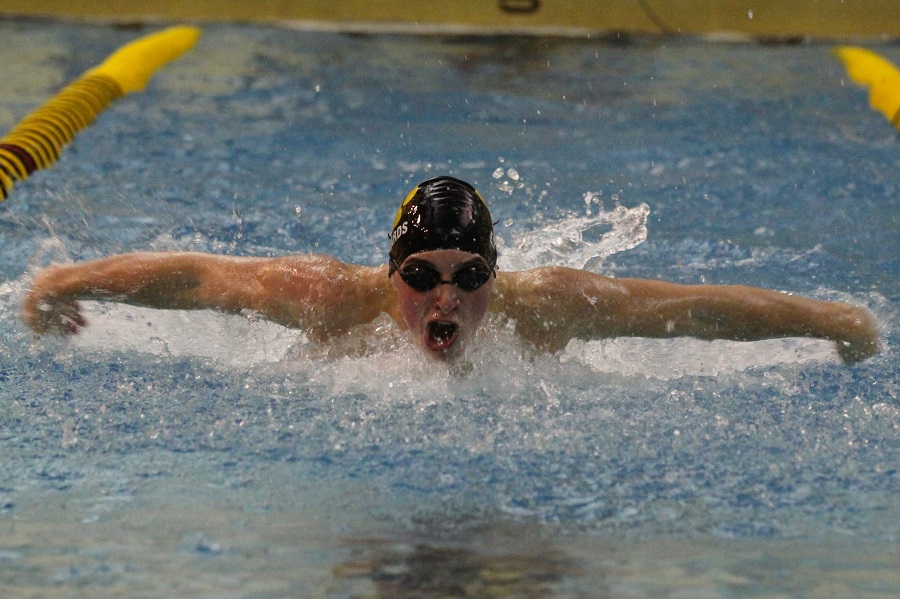 Tigers Leave Rams In Their Wake For Section Sweep
Brothers Max and Mason Gonzalez each finished first in two individual events and also were part of the winning 200-yard freestyle relay team as North Allegheny swept Pine Richland on Thursday, January 7 at North Allegheny Senior High.  The boys won 104-67, while the girls won 107-74.
Max Gonzalez, a junior, won the 100-yard breaststroke with a time of 1:03.04 and the 200-yard freestyle in 1:46.05.  Mason Gonzalez, a sophomore, won the 200-yard individual medley in 1:58.85 and beat the rest of the 500-yard freestyle field by 16 seconds, finishing first in 4:43.62.  The Gonzalez brothers teamed with freshman Joel Songer and junior Eric Staab to win the 200-yard freestyle relay in 1:31.31.
Other first-place finishers among the boys were Staab in the 100-yard freestyle (51.15); sophomore Matt Kuhn in the 50-yard freestyle (24.07); junior Eben Krigger in the 100-yard butterfly (54.70); and freshman Jack Wright in the 100-yard backstroke (57.33).
For the girls, first-place finishers were senior Katie Wright in the 200-yard freestyle (2:01.84); senior Erin Kuhn in the 200-yard individual medley (2:17.23); sophomore Kristine Mihm in the 50-yard freestyle (25.71); senior Gianna Caputo in the 100-yard butterfly (1:03.31); junior Anna Verardi in the 500-yard freestyle (5:31.78); and junior Lauren McGrath in the 100-yard backstroke (59.55).
In diving, senior Stephen Savchik finished first among the boys with a score of 253.35, while senior Jared Ziegler finished third.  Morgan Rutan finished third among the girls. The North Allegheny swimmers and divers are next in action on January 12 at Franklin Regional.
For real-time event results during North Allegheny Swimming and Diving meets and other news, follow the team on Twitter at @NATigerSwimming and/or NA Tigers Swim Fan.