View Game Summaries For
2021-2022 Game Summaries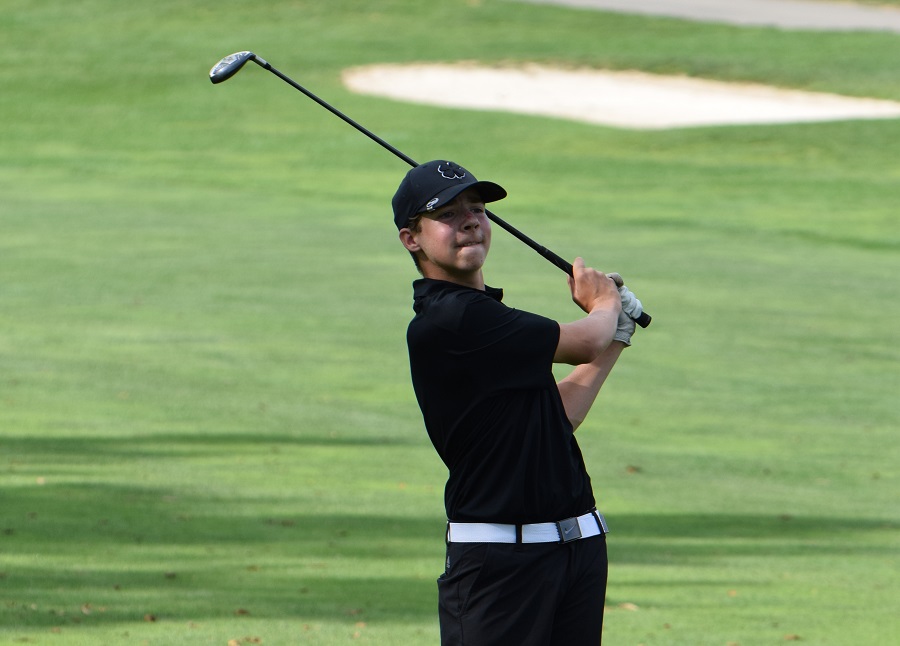 The North Allegheny boys' golf team traveled to Butler Country Club for an important section matchup against the second-place Butler Golden Tornado. Although the Tornado brought wind gusts of 10-15 miles per hour, North Allegheny battled the elements and weathered the storm for a 210-217 victory.
Helping lead NA to victory was sophomore Collin Wang, who shot a team-best 41. Adding to the win was a trio of 42's from freshman Chris Hoffman and juniors Ethan Byrne and Curtis Rhoten. Sophomore Jake Watterson chipped in with a 43. Butler's low man was Tyler Figlioli, who carded a clubhouse leading 39.
North Allegheny improves to 8-8 overall and 5-5 in section play. The team practices on Monday before a section contest on Tuesday against first-place Mars.
Match Summary
NORTH ALLEGHENY- 210
BUTLER - 217
NORTH ALLEGHENY
SCORE
BUTLER
SCORE
Chris Hoffman
42
Colin Patterson
41
Collin Wang
41
Ryan Porch
41
Jake Watterson
43
Tyler Figlioli
39
Dylan Fitzgerald
46
Parker Worsley
48
Ethan Byrne
42
Hunter Sundzinski
48
Curtis Rhoten
42
Lucas Slear
48
TOTAL
210
217
Flynn McGurrin
42
Wyatt Burns
40
Grant McKissock
49
Xander Case
42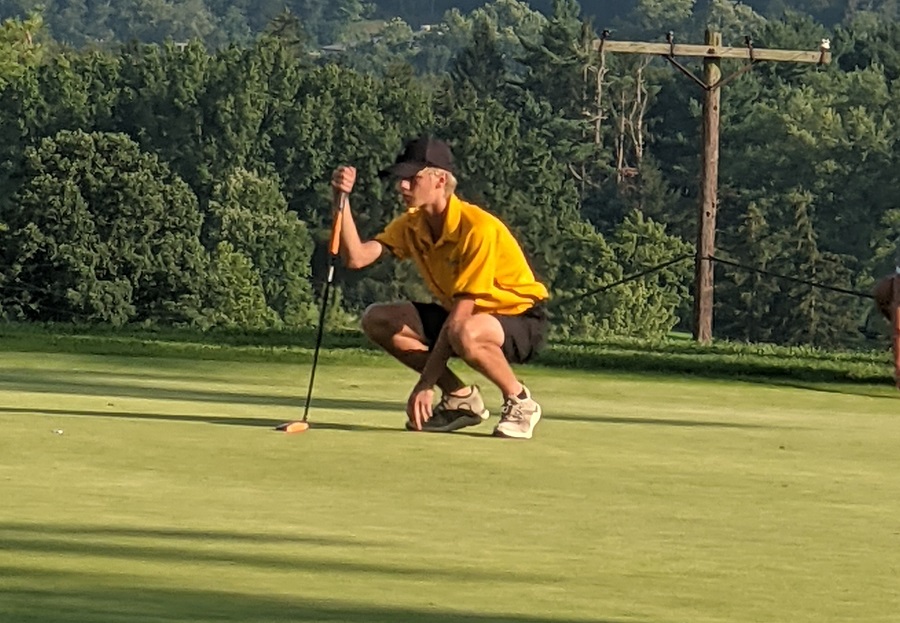 Freshman Chris Hoffman put on a stellar performance on Tuesday at the Section 3-AAA qualifier at Shannopin Country Club. The NA rookie shot a 78, including a 37 on the back nine, to easily advance to the WPIAL individual semifinals on Monday, Sept. 27. Hoffman finished in a tie for fourth place with Lucas Bruns of Seneca Valley and easily beat the target score of 81.1. Shaler's Joey Miller was the medalist with a low-score of 71.
Five other Tigers also competed at the event. Senior Dylan Fitzgerald shot an 86, sophomores Jake Watterson and Collin Wang each shot a 92, junior Ethan Byrne carded a 95 and junior Curtis Rhoten checked in with a 99. For a look at the Section 3-AAA scoreboard, click here.
North Allegheny returns to team play on Wednesday with a home match against the Mars Planets.
The Tigers traveled to Cranberry Highlands to battle Seneca Valley for third place in the section.  The Tigers gave a good fight, but in the end, walked away with a loss, moving them to fourth in the section.
Freshman Chris Hoffman led the scoring for North Allegheny with a two over par 37.  Also contributing for the Tigers was Jake Watterson's 38, Collin Wang's 40, Dylan Fitzgerald's 41, and Ethan Byrne's 45.  Seneca Valley was paced by Nolan Nichlas' 37.
The Tigers host the planets of Mars on Wednesday at North Park Golf Course.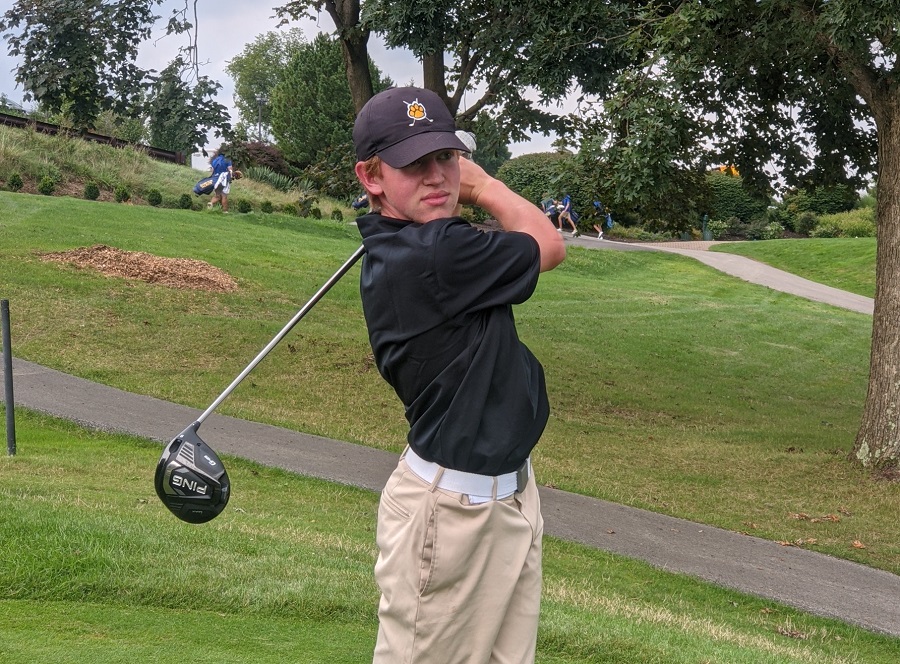 The North Allegheny boys' golf team hosted Baldwin for a non-section match at North Park Golf Course on Thursday and came through for a 199-229 victory.
Focused on rebounding from Wednesday's loss to Shaler, the Tigers bounced back with the help of sophomore Collin Wang and his 1-over par 37. Freshman Chris Hoffman delivered a 39, followed by senior Flynn McGurrin's 40. Sophomore Jake Watterson chipped in with a 41 and senior Dylan Fitzgerald carded a 42. Baldwin was led by Zach Engle, who shot a 43.
North Allegheny improves to 7-7 overall and will travel to Cranberry Highlands Gold Course on Monday to face Seneca Valley.
Match Summary
NORTH ALLEGHENY- 199
BALDWIN 229

NORTH ALLEGHENY
SCORE
BALDWIN
SCORE
Chris Hoffman
39
Ryan Sullinsky
48
Jake Watterson
41
Alex Goldash
46
Collin Wang
37
Carson Greg
44
Ethan Byrne
43
Zach Engle
43
Flynn McGurrin
40
Mike Pantelis
48
Dylan Fitzgerald
42
Logan Pack
55
TOTAL
199
229
Joe DeJonckheere
42
Grant McKissock
44
Jackson Talerico
44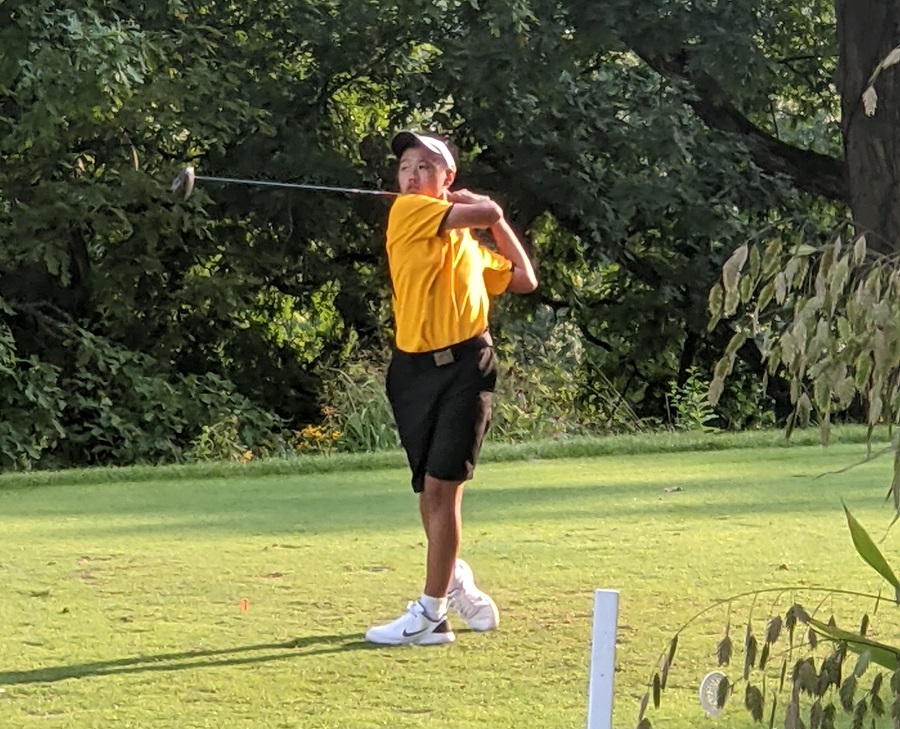 The North Allegheny boys' golf team hosted Shaler on Wednesday afternoon at North Park Golf Course and fell to the visiting Titans, 200-214.
Despite the loss, the Tigers battled and were paced by sophomore Jake Watterson's 38. Freshman Chris Hoffman shot a 42, followed by junior Ethan Byrne with a 43. Senior Dylan Fitzgerald contributed a 45 and sophomore Collin Wang rounded out the scoring for NA with a 46. Shaler was led by a pair of 38's from Joey Miller and Jacob Kuntz.
North Allegheny slips to 6-7 overall and 4-4 in section play following the loss. The Tigers will host Baldwin in a non-section contest on Thursday.
Match Summary
SHALER - 200
NORTH ALLEGHENY- 214

NORTH ALLEGHENY
SCORE
SHALER
SCORE
Chris Hoffman
42
Joey Miller
38
Ethan Byrne
43
Vince Barbierie
42
Collin Wang
46
Jacob Krismin
39
Curtis Rhoten
Withdrawel
Jacob Kuntz
38
Jake Watterson
28
Coby Webber
43
Dylan Fitzgerald
45
Mitch Jacobs
51
TOTAL
214
200
Joe DeJonckheere
43
Flynn McGurrin
42
Grant McKissock
41
Jackson Talerico
42