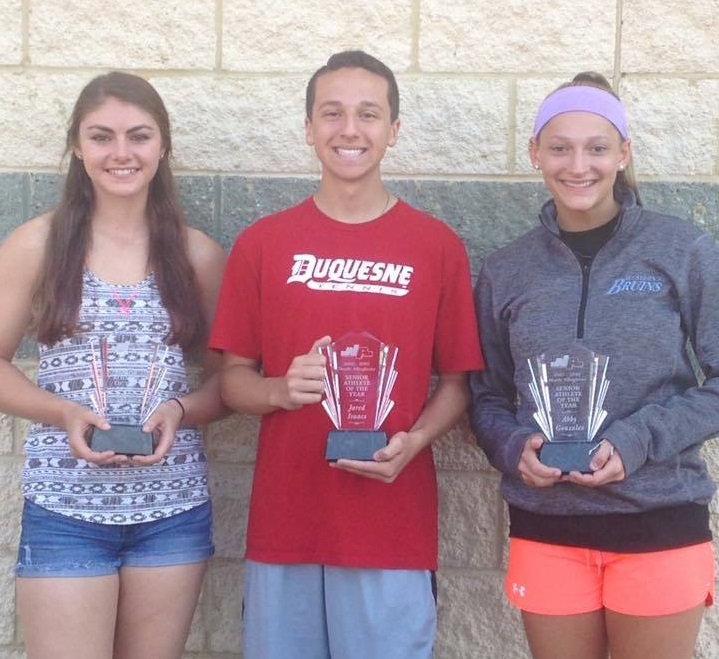 2015-2016 NA Senior Athletes of the Year
The North Allegheny Athletic Department proudly announces the selections of the 2015-2016 Senior Athletes of the Year. Sharing the honors on the female side are Madi Beining of the Softball Team and Abby Gonzalez of the Basketball Team.  The male athlete honors go to Jared Isaacs of the Tennis Team.
A standout pitcher for her four-year varsity career, Madi Beining led the Lady Tigers to a 19-4 record her senior year, including a section co-championship and berths in the WPIAL Semi-finals and the PIAA qualifying round. As a pitcher she factored into each decision and fashioned a 0.97 ERA with 141 strikeouts. Guided by Coach Rick Meister, Madi will continue her academic and softball careers at Gannon University next year.
Point guard Abby Gonzalez captained the Girls' Basketball team to a stellar season that included a 25-5 record, a WPIAL championship appearance and a run to the PIAA Semi-finals.  She also reached the milestone of 1,000+ points in her four-year varsity career.  Led by Head Coach Spencer Stefko, Abby will attend the University of Delaware next year to continue her academic and basketball endeavors.
Jared Isaacs capped his senior year by leading the Boys Tennis Team to a 19-3 record that included berths in the WPIAL Finals and PIAA Quarter-finals. Individually, Jared was the Section 2 Singles Champion, WPIAL Doubles Champion, and PIAA Doubles Silver Medalist following PIAA championships his sophomore and junior seasons.  He is the first Tiger to reach the PIAA finals, doubles or singles, for three consecutive years.  A Duquesne University recruit, Jared will join his sister and NA grad, Kylie, as a member of the Duquesne tennis squad.
Congratulations to Madi, Abby, and Jared for being named the 2016 North Allegheny Athletes of the Year for the senior class!