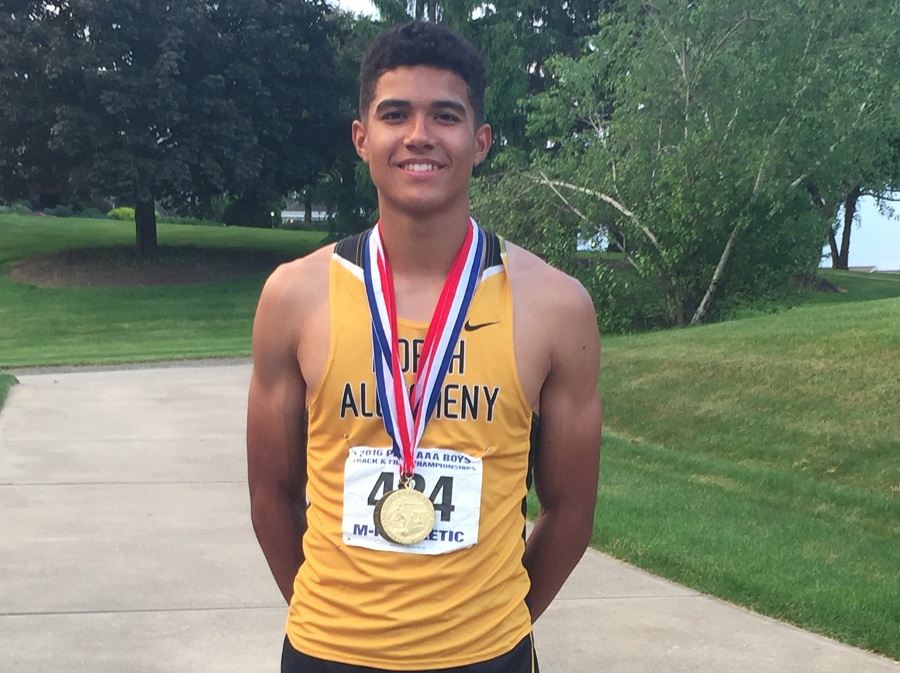 Ayden Owens Wins Gold, Tigers Take 3rd At States
The only thing hotter than the weather at the Semifinal and Final rounds of the PIAA State Championship Meet was the performances by the NATF Tigers this weekend.  The team had a total of nine medalists in seven events. 
Sophomore sensation Clara Savchik was the first Tiger to earn a medal and finished as the state runner up in the 3200m Run.  The Boy's 4x800meter Relay of Bobby Lutz, Caleb Schaelchlin, Christian Parreaguirre, and Zach Ehling ran their season best performance and earned an 8th place podium finish.  Senior Jacob Stupak also ran his lifetime best and captured a 6th place finish in the 1600m Run.  Marc Migliozzi raced for a bronze medal and a 3rd place podium finish in the 3200m Run.  The only Tiger to qualify in a field event at the meet, Andrew Manz threw good enough for a silver medal, finishing 2nd in the Javelin Event.  Ayden Owens ran a lifetime best and was crowned the PIAA AAA STATE CHAMPION in the 300m Intermediate Hurdles.  Not only was his winning time of 37.49 seconds good enough to win the meet, it also breaks NA's school record previously held by Derek Brinkley (37.6).  Shortly after that race Ayden medaled with an 8th place finish in the 200m Dash. 
The Boys' team collected 29 points which placed them 3rd overall in the State, right behind runner-up Downingtown West and State Champion State College High School.  This concludes the NATF 2016 season. The Tigers will have their Awards Banquet on Wednesday, June 1st.
For a photo gallery, click the link below.