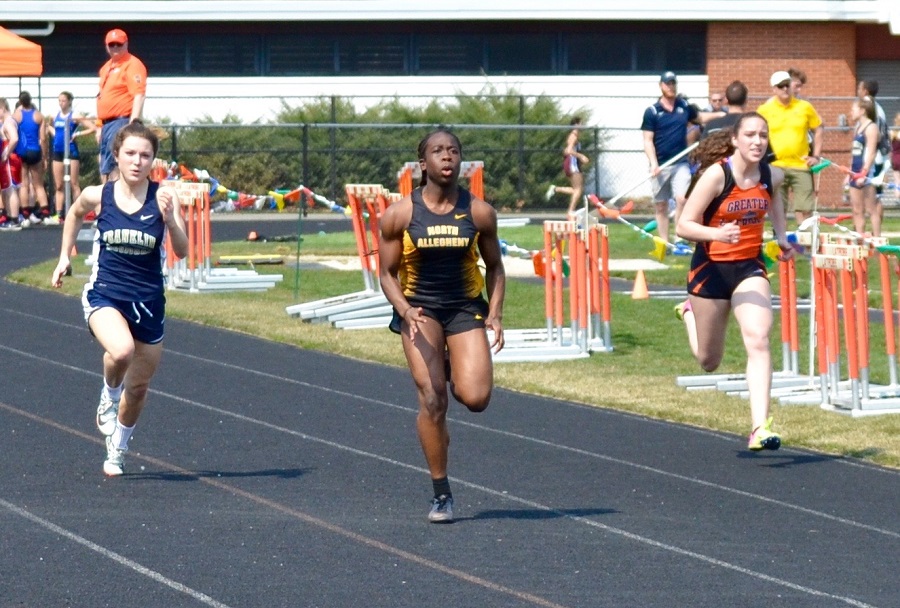 Both NATF Teams Bring Home Trophies From Butler Invitational
The day was long and cold but the excitement of competition lasted right to the very end.  The Boys team brought home the Championship Trophy and the Girls team earned the Runner Up Trophy to host Butler.
Medaling in three events Casey Burton was the top scorer for the Tigers.  She placed second in the 100m dash and third in the Long Jump and 200m Dash.  Clara Savchik was the fastest distance runner on the track as she won the 3200m Run and placed fifth in 1600m.  Hannah Lindgren stood on the podium with a seventh place finish in the 3200m Run.  Emily Naughton dashed her way on to the podium with a seventh place finish in the 400m.  Aveline Plenter-Krelling was the fastest freshman hurdler, finishing in eighth place.  The 4×100 Relay team consisting of Bailee Miara, Rachel Giger, Casey Burton, and Mikayla Logan had a strong performance finishing in third place.  With a fifth place finish, Yulia Yatsenko was the only field athlete from NA to medal at the meet.  Also, the 4×8 relay finished in seventh place with the team of Savchick, Keeley Misutka, Caroline Daggett, and Samantha Boris.
Ayden Owens led the Tigers to victory once again and earned MVP Athlete of the Meet honors with it.  He won all three individual events (High Hurdles, Long Jump, 200) and was a leg in the winning 4×4 Relay team alongside teammates Zach Ehling, Dan McGoey, and Jono Pelusi.  Zach also finished sixth in the 400m Dash while Dan finished fifth in the 3200m Run.  Jono Pelusi also won the Pole Vault thus bringing home two first place medals. Donovan Rice was able to medal in both hurdle events as he captured fifth in the 100m Highs and sixth in 300m Intermediates. In the field events Joe Fritsch finished with a fifth place performance in the Javelin, Connor Ditka placed sixth in the Shot Put and Liam Nobbs medaled both in the Pole Vault (fifth) and Javelin (fourth).
NA competes against Shaler and Fox Chapel on Tuesday in the final sectional showdown of the season.  The Tigers will host this meet, beginning at 3:30, at Newman Stadium.