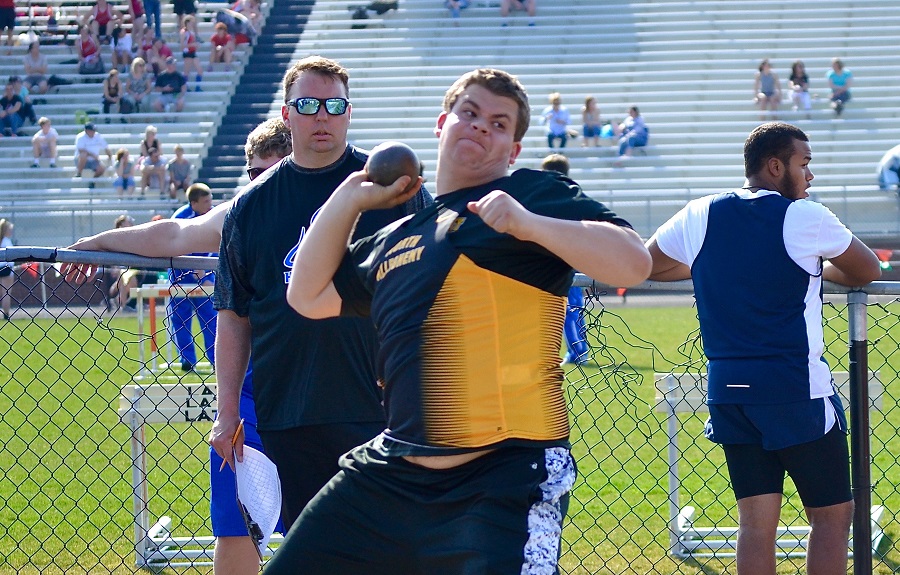 Boys clinch Section Title, Both NATF Teams Advance to WPIAL playoffs
Despite the cool temperature and rain, both NA Track & Field teams breezed past their competition in their final sectional meet of the season.  The Boys team remained unbeaten and became sectional champions after defeating Fox Chapel and Shaler Area at Newman Stadium.  The NA girls' victory earned them Sectional Runner-Up.  Both teams will advance to the WPIAL Team Semifinal meet next week.   
Donovan Rice had a tremendous day as he posted three individual wins in the meet, winning both hurdle races and the 200m Dash.  Leading from start to finish senior Zach Ehling ran an impressive race in the 800m.  John Vardzel led the sprint crew to an overall win in the 100m Dash.  Dan McGoey and Jono Pelusi also contributed to the meet by earning victories in the 1600m and 400m Dash, respectively.  In the field, Dylan Wall earned victories in the Shot Put and Discus, the only double event winner in the meet.  Turner White leaped to a first place finish in the Long Jump while Josh Sanders secured first place in the Triple Jump.  Richie Pajak in the High Jump and Joe Fritsch helped to clinch the meet victory by winning their events.   
Rachel Hopey clinched two wins in the 400m and 800m Runs, the only girl in the meet to earn multiple event victories.  Casey Burton cruised past her competition in the 100m Dash, same as Rachel Giger in the 200m Dash.  Hurdlers Bailee Miara led her 300m Hurdle race from start to finish as did Aveline Plenter-Krelling in the 100m High Hurdles. Clara Savchik ran for a first place finish in the 1600m Run.  Jordan Bailey won the Javelin event while Mikayla Logan won the Shot Put.  The freshman duo of Megan Stewart and Jenna McConnell outjumped their opponents in the Long Jump and Triple Jump.   
Several young NATF athletes will be traveling to Butler on Thursday afternoon to compete in the Butler 9th and 10th Grade Invitational.