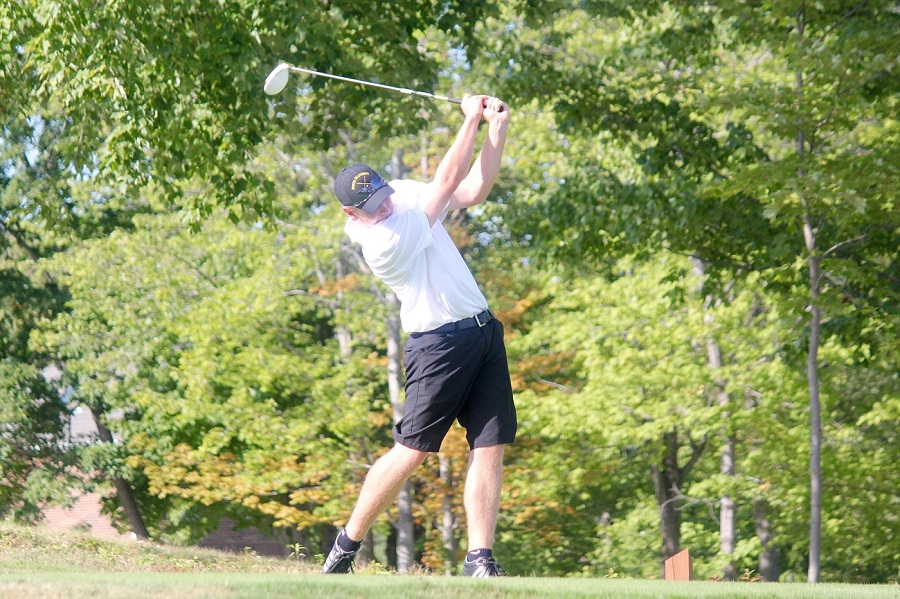 Boys' Golf Ends Week With Two Straight Wins
The North Allegheny boys' golf team traveled to Mt. Lebanon on Thursday afternoon and came away with a 188-191 non-section win. The Tigers were led by senior Luke Minsky and his 2-under par 33. Also helping NA to the win were juniors Ryan Meyer and Tyler Dougherty who each notched a 38. Teague Urban followed with a 39 and Scott Fitzgerald posted a 40.
The win over the Blue Devils was NA's second in a row as the Tigers also defeated Butler on Wednesday, 193-217. In the victory over the Golden Tornado, the Tigers were paced by a pair of 2-over par 37's from Minsky and Urban.
North Allegheny's record sits at 5-3 overall and 2-2 in section play to end the week. The Tigers return to action on Wednesday, September 6 when they host North Hills.
Boys Golf Summary vs. Mt. Lebanon, 8-31-17
Match Summary

NORTH ALLEGHENY - 188
MT. LEBANON - 191


NORTH ALLEGHENY
SCORE
MT. LEBANON
SCORE
Luke Minsky
33
Hayden Mitchell
36
Ryan Meyer
38
Cody Local
36
Tyler Daugherty
38
J.T. Smith
38
Teague Urban
39
Luke Duff
38
Scott Fitzgerald
40
Miles Hammell
43
Julian Rau
40
Paul Wineger
45
TOTAL
188
191
*********
Boys Golf Summary vs. Butler, 8-30-17
Match Summary

NORTH ALLEGHENY - 193
BUTLER - 217


NORTH ALLEGHENY
SCORE
BUTLER
SCORE
Luke Minsky
37
Drew Kukla
48
Scott Fitzgerald
42
Nick Penrod
39
Ryan Meyer
40
John Dasch
51
Julian Rau
38
Brayden Smith
44
Adam Hendrickson
42
Gege Tenvillice
44
Teague Urban
37
Brett Brady
42
TOTAL
193
217