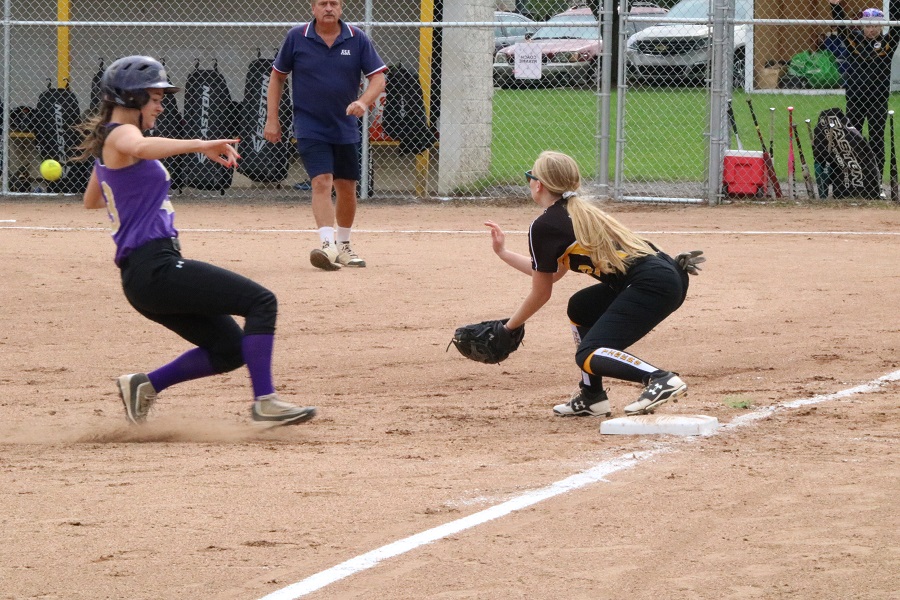 Busy Weekend For NA Slow-Pitch
By Slow-Pitch Softball Contributor
The North Allegheny slow-pitch team had a busy weekend with a pair of doubleheaders. The Tigers took on Plum for a twin bill on Saturday and faced Bethel Park for two more on Sunday.
It was a rough Saturday for North Allegheny as the Tigers were swept by the Plum Mustangs, 5-2 and 17-3.   Plum started out strong in game one with five runs after the first inning. It seemed like it might start to get turned around when sophomore Lizzie Wetmore hit a triple in the bottom of the second inning, but only one run was earned.   In the third inning, junior Kenna White hit a beautiful home run to deep right field, followed by a double from junior Abby Birch and another double by Wetmore. After the third inning, the wheels came off, and NA couldn't catch a break.  Final score: Plum 20, NA 5.
In the second game with Plum, it didn't get much better.   Wetmore and White both got triples, and senior Lindsay Holmes got a double.  Plum was relentless in their strong fielding and powerful hitting. Unfortunately, there was a similar outcome to this game, with Plum beating NA 17-3.
---
North Allegheny played a strong game one against Bethel Park on Sunday to earn an exciting 8-7 victory.  After a slow beginning with NA giving up four runs to Bethel, the Tigers responded with some strong bats.  Junior Kenna White hit a strong home run to deep right field bringing in two runs. Bethel scored only two more runs the rest of the game thanks to strong fielding from White in right center field.  She slid, she jumped, she ran, and she stopped Bethel again and again with her incredible plays. In the fifth inning, NA's bats were back. Sophomore Meg Patterson started NA off with an RBI, followed by senior Jenni Booker with two RBIs.  The inning ended with senior Melissa Metzger also earning NA a run. It was now tied up. In the 6th inning, Bethel snuck one more run by the Tigers, but their lead wasn't going to last for long. Junior Abby Birch got a double. Sophomore Lizzie Wetmore got a double. Finally, Booker hit them home to tie up the game.  In the extra inning, NA was able to hold Bethel at 7-7, but this tie wasn't going to last long. Birch sent the ball sailing to deep right center, bringing White home to win the game, 8-7.
In between the games, seniors from Bethel and NA were honored, followed by some delicious cookies enjoyed by both teams. This enjoyment was short-lived, however, when Bethel found every hole in NA's defense early on in the second game.  It was a frustrating end to what started out as a great day. Despite an RBI from both White and Metzger, NA lost to Bethel 14-2.