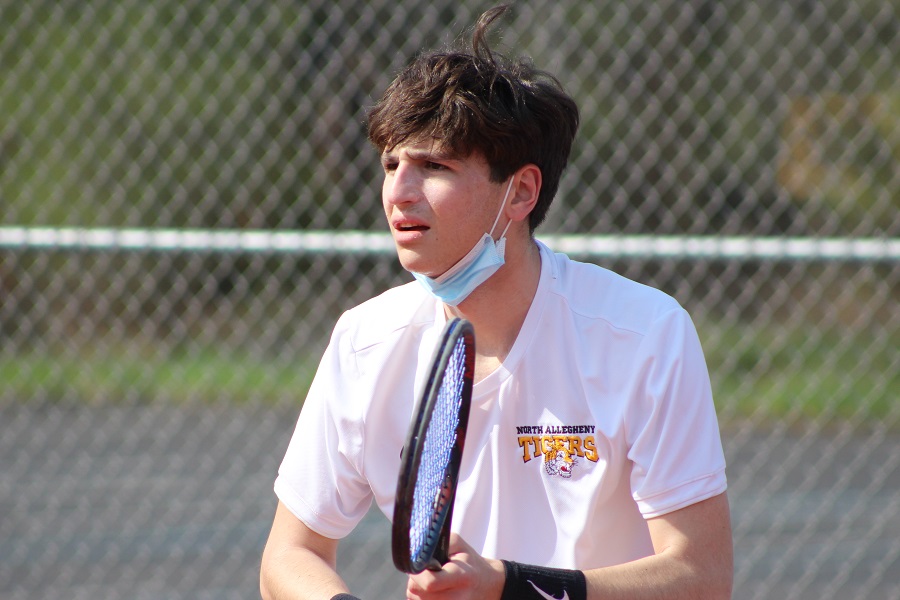 Chase Davidson Wins Section 2-AAA Singles Championship
In a match reminiscent of heavyweight contests in days gone by, the Section 2-AAA Singles Tournament concluded Thursday afternoon on the NASH courts in an epic, 2 ½ hour battle.  When the balls stopped bouncing, North Allegheny senior Chase Davidson defeated Moon's Anthony Lounder to take the championship honors.  Seeded 3rd overall, Davidson was looking to even the score against Lounder, the number one seed who had beaten him in the team match-up at Moon on March 30.
The first set was taken by Davidson who established the pace early and went on to score a 6-2 decision.  With his back against the wall, Lounder came out with energy to start the second set, holding serve.  Davidson held, also.  Both players then broke each other consecutively, setting a tone of outstanding shots and counter punches that made the match a spectator's spectacle.
In each service game thereafter, the opponents found many opportunities for breaks, but the servers held court with solid, dramatic comebacks in multiple deuce games.
With the contest back on serve, Davidson had to hold his serve at 5-6 to force a tie break.  Down in the game by two points he did just that under extreme pressure by Lounder and evened the set at 6-6.  The tie break was on, and the two players continued counter-punching.  Tied at 4-4, Davidson ran off the next three points to take the tie-break, set, match, and championship. Davidson becomes the first NA Tiger to win the Section 2 Singles competition since Jared Isaacs won back in 2016.
Both players move on to the WPIAL Singles Tournament to be held April 13 and 14 on the NASH courts.  The competition draw will be established by the WPIAL Tennis Committee by Friday evening.  In the meantime, the Tigers' return to team action on Friday with a home exhibition match against the Double AA Hampton Talbots.  The starting time on the NASH courts is 3:30 PM.
Section 2 Singles Championship Match Summary – 04/08/2021
 #3 Chase Davidson (NA) def. #1 Anthony Lounder (MA) 6-2, 7-6 (4)